Dubai is always on toes to astound you with its amazing elements of fun. Legoland Dubai is yet another gem in the entertainment crown of this city and the place is all fun and joy. You get to enjoy thrilling rides and attractions which are unique to this place only in the Middle East. It is a perfect destination for full family fun.
---
What is Legoland?

It is one of its kind entertainment zones comprising of two parts, Legoland Dubai and Legoland Waterpark. It is a full family fun destination embedded with thrilling rides, recreational activities, and adventures.
---
What is the best time to visit Legoland?
Legoland is open throughout the year and since it is a waterpark so you can enjoy it in summers as well.
---
Where is Legoland Dubai?
Legoland waterpark is located at Sheikh Zayed Rd, Exit No 5, Opposite Palm, United Arab Emirates.
---
How to Reach Legoland?
To reach Legoland, head on for E11 highway on SHEIKH ZAYED ROAD. Take Exit No. 5, opposite palm, UAE. From there, reach Dubai Parks and Resorts and following the signs, reach Legoland Dubai.
Take on E11 Highway (Sheikh Zayed Road), past Dubai Marina and Jebel Ali heading towards Abu Dhabi. Take Dubai Parks and Resorts Exit 5 afterward. You have to follow the signs towards your preferred parking or drop off location.
Legoland Dubai's operating hours
Legoland Theme Park: From 10.00 a.m. to 8 p.m.
Legoland Water Park: From 10.00 a.m. to 6 p.m.
Legoland Theme Park Dubai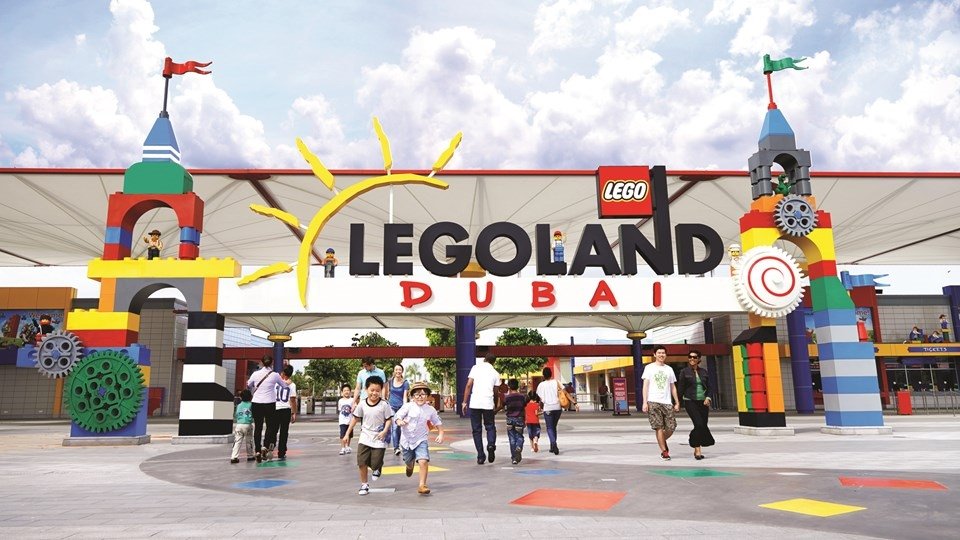 Legoland theme park is a uniquely conceived fun park based on the theme of Legos. It is all decked up with frenzy rides and intellectual activity areas. The place is a perfect destination for kids especially from 2-12 years of age. It consists of six fun zones, each extending a state of the art experience of fun. The six zones are as follows:
Lego City: If you ever dreamt about a city made completely from Legos then here is your dream come true. All you find here are Legos all around. Also, you can watch your kids ride an electric car and even a plane there.
Imagination: It goes in accordance with its name as you can give dimensions to your kid's ideas. Let them build their own car or a building with Legos. Also, you can catch up on the view of the entire Legoland from the kids' tower.
Kingdoms: It is a thrilling spot of Legoland theme park with a fantasy world of king and dragons. Ride on an exhilarating rollercoaster or enjoy at the Merlin's Challenge.
Adventure: As the name suggests this land is full of adventures. Indulge in underwater fun in submarines exploring hidden treasures in ruins of age-old temples.
Miniland: Want to watch a Lego version of Dubai?  Get on to this zone to find almost all of the attractions of Dubai build with Legos. In fact, you can build your own city of Legos too.
Factory: Manufacturing processes are always fascinating. Watch the intriguing method of Lego formation here and take back some freshly made Lego with you.
Important Note: Imagination land has a baby care zone for nursing mothers.
Top Five Rides of Legoland Theme Park

Rescue Academy
Lost Kingdom Adventure
Merlin's Flying Machines
LEGO Technic Twister
Pharaoh's Revenge
Legoland Water Park Dubai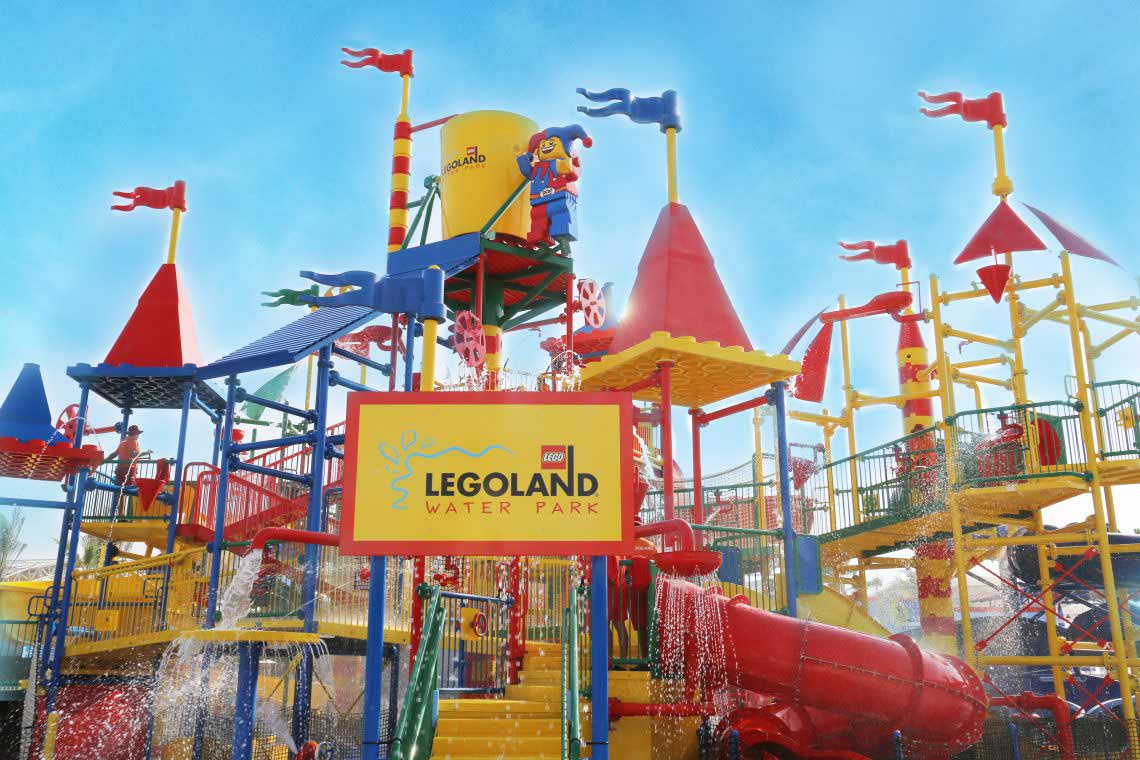 Legoland Waterpark is another attachment of Legoland Dubai and it is a waterpark full of water rides, slides, pools, and all thing waters. It is a perfect place to chill out summers in acute fun and frolic. It is suitable for both, kids and adults as it has slides and rides with all safety parameters for kids.
Legoland Water Park Attractions
Build a Boat
Create your own boat with legos and find your new creative side. The only challenge is that you have to make the boat against the water current.
Build a Raft River
Sway over the water on your personalized raft with lego bricks and indulge in some creative action in the waterpark.
DUPLO Splash Safari
Let your toddlers enjoy the smooth slides specially developed for them ensuring their complete safety, security, and entertainment.
Joker Soaker
Indulge in a pool of fun waiting to be explored. Pour down a huge tub over your friends or push them into a pool for fun.
Twin Chasers
Get racing with your partner on a twin slide and see who got better sliding skills. Check out who reaches the wading area first.
Splash Out
Test your adrenaline with a 60-foot drop into splashing water. Go through a super fun experience of water and slides.
Red rush
It's fun when it's all together. Indulge into group fun in a full-sized raft sliding down a 312-foot slide with full family.
Sit aboard a family-sized raft and slide down a 312-foot long curved slide on an 11-foot diameter open half-pipe. Don't forget to catch the expressions of your family while enjoying this fun slide.
Tips for the first-timers:
Do not take any outside food as only baby food is allowed there.
Avoid visiting during weekends as it would be crowded at that time.
Wear comfortable clothes and footwear.
Paid parking is available.
Buying a combo pack is a better option.
Kids get free food inside Legoland.
Places to eat at Legoland Dubai:
Along with the fun, Legoland is stupendous at dining options as well. There are plenty of places to test your tongue at:
Aqua Treats: You can find popcorns and drinks. It is present in Adventure land.
Caesar's Pizza and Pasta Buffet: You can find delicious pasta and pizzas here in a buffet system. It is also present in Adventure land.
City Snacks: Get fresh hotdogs and popcorns in this food zone in Lego city.
The café: Chew down on some muffins with refreshing coffee in the Factory.
Granny's Apple Fries: Enjoy tasty apple fries in the kingdom zone.
Knights Table: Head for a burger treat here in Kingdom.
Frequently Asked Questions about Legoland Dubai
How much is the entrance fee in Legoland Dubai?
Legoland Dubai theme park & water park entrance fee: 175 AED for UAE residence & 245 AED for tourists.
Where can I purchase Legoland Dubai Tickets?
Travelex Travels & Tours LLC provides great offers on Legoland Dubai tickets. Online ticket booking is suggested to avoid long queues and rush.
Does Legoland Dubai have a Water Park included?
Legoland has a waterpark adjacent to it. Tickets for the waterpark are to be bought separately or you can buy a combo ticket for both.
Is Legoland Dubai an indoor or outdoor park?
Legoland is a combo of both indoor and outdoor parks. It has the world's first indoor fully air-conditioned Miniland with lego models whereas many rides are open-aired.
Is Legoland Dubai open all year round?
Yes, Legoland Dubai opens all year round. It sometimes closes for a few days due to annual maintenance but that is pre-informed.
Which is the perfect age for Legoland Dubai and Legoland Water Park?
Legoland Dubai is the most suitable for families with kids as they are more eager about Legos. But rides are entertaining for all ages.
Is Legoland Dubai for adults?
Legoland is open for all ages and adults can enjoy at the park equally. Rides in the park are great fun for adults as well.
Is Legoland Dubai worth it?
Legoland Dubai is worth every penny spent on it as the place is full of fun and thrill. In fact, for kids, it is s super immersive zone. Rides and attractions are fascinatingly amazing.
Which is better Legoland or Motiongate?
Both Legoland and Motiongate are full of fun and adventure but Legoland is more fun for kids. Motiongate is more for adults. It totally depends on your priorities to decide which is better.
How long do you need in Legoland Dubai?
To completely explore the place you need a full day. There are so many games and rides to enjoy. Especially if you have kids then they would not leave the place without seeing it completely.
What is the least busy day at Legoland?
Weekdays, especially Monday and Tuesday are least busy as the crowd rushes on weekends.
What is the best age to go to Legoland?
Legoland welcomes all ages but it is best for kids from 2-12 years of age as the games and rides are suitable and safe for their age.
What should I wear to Legoland?
There is no specific dress code in the park. Just make sure that your body is covered and the dress is sophisticated. Wear comfortable clothes as you will have to indulge in a series of activities.