The idea of Valentine's Day in Dubai can be a wonderful gift for your partner as the city has a charm of its own. Some people plan a date at their favorite restaurant and some plan a beautiful night at their homes. But there is nothing more romantic than a trip with your loved one to a beautiful place. Dubai is a beautiful place where you can get comfort and luxury served royally to you. There are many places in Dubai that are catered to the comforts of couples. And especially at the time of Valentine's day they might have many special arrangements for you and your loved one.
Dubai is the crown jewel of UAE's tourism effort and it has been successful in attracting a large number of travelers from all over the world. Dubai during sunset becomes one of the most romantic places on the planet. When you mix that with a beach view or a candlelight dinner or candlelight dinner with a beach view you got an amazing date right there. But going to Dubai for a date on Valentine's day might seem really expensive.
Since the list of zones to end up your search is a bit long and there are plenty of places and things to do in Dubai so here is some help. Following are some inevitable elements from Dubai's romantic itinerary to catch up for a special Valentine this year.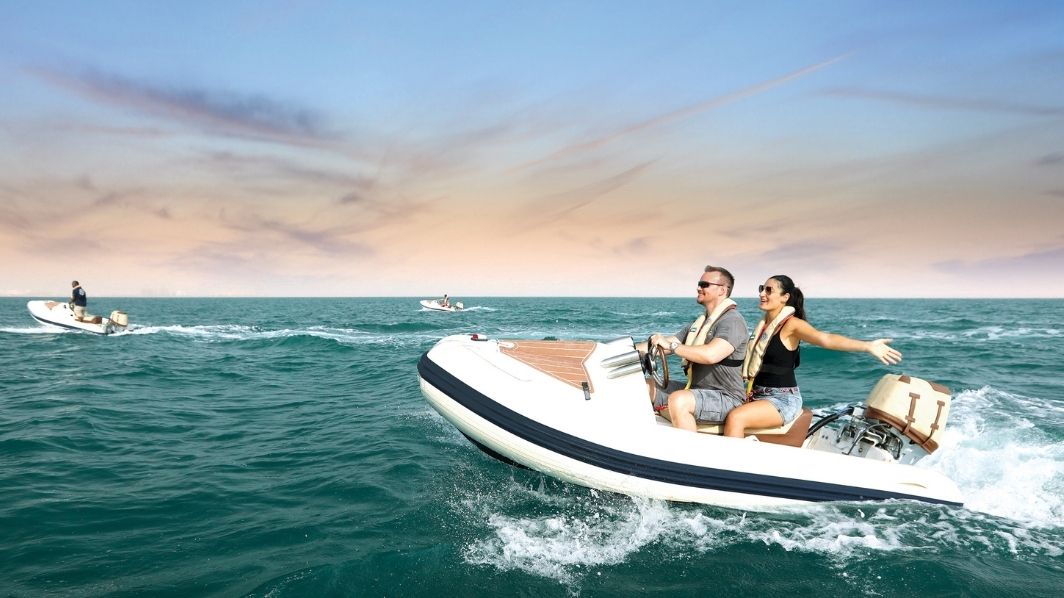 Driving a boat with your loved one during mesmerizing Dubai sunset is enough to send romantic chills down your heart on this Valentine's week. A perfect couple of setting sun and soothing sea complements the perfectness of your pair and adds to your love. This 90 minutes boating session will allow you a distant view of Dubai's striking silhouettes and enchanting landscapes from the water.
For safety concerns, you will be well versed on how to drive beforehand and will be provided with safety vests and instructors with you. So, indulge in some unconventional fun and fervor this Valentine's season to make it worth remembering for you and your partner.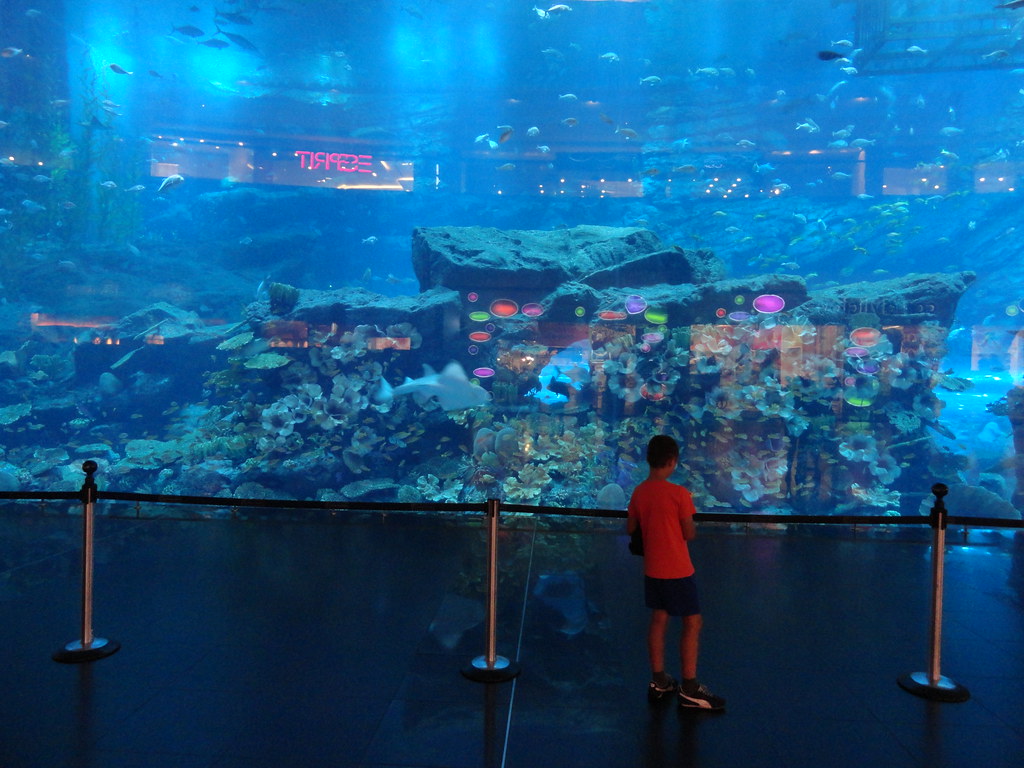 Before leaving Dubai Mall and calling it a day make sure that you swing by the Dubai Aquarium at Dubai Mall. It has a dome pathway to the aquarium which is quite beautiful and an amazing place to click pictures. This aquarium has a surprise couple; two saltwater crocodiles. The king and queen crocodiles are the romantic attraction. One of the crocodiles is around 1600 lbs and around 16 feet in length despite being 40 years old. Apart from that, you can see other aquatic animals that will definitely catch your eye.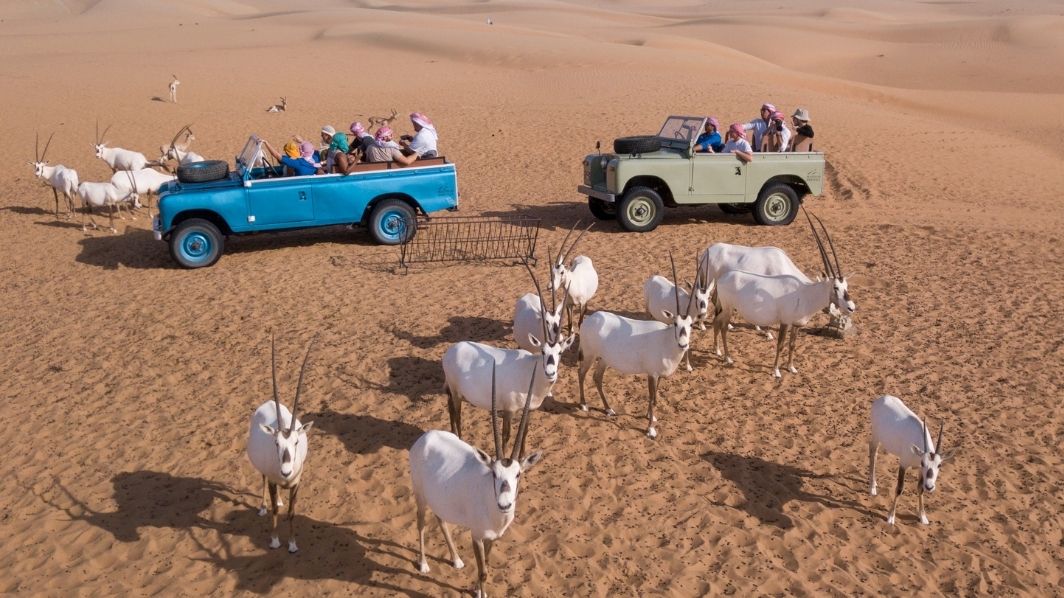 Desert safari is an inevitable element of the Dubai holiday routine and when it's Valentine's week, they sure have an amazing. Option for you to make lovely memories with your loved one a desert safari package in Dubai helps you go up and down in fun and laughter with thrilling dune bashing did you partner.
This amazing ride in the Vintage land rover is a next-level thrill. To add to the fun, hop on a camel for a ride with your partner. After the adventurous session, get set for wild explorations and witnessing the unique Bedouin culture of Dubai.
Spend your evening in traditional camps with a culturally vibrant ambiance. Food always adds to your romantic moments and when it is exotic desert cuisine under the starry Sky of Dubai then words cannot sum up the serenity of the moment.
Enjoy authentic Emirati platters while appreciating live performances. Don't forget to get a henna tattoo for a loving memory back home. So, mark this expedition for your Valentine's Day in Dubai for a fun-filled set of memories.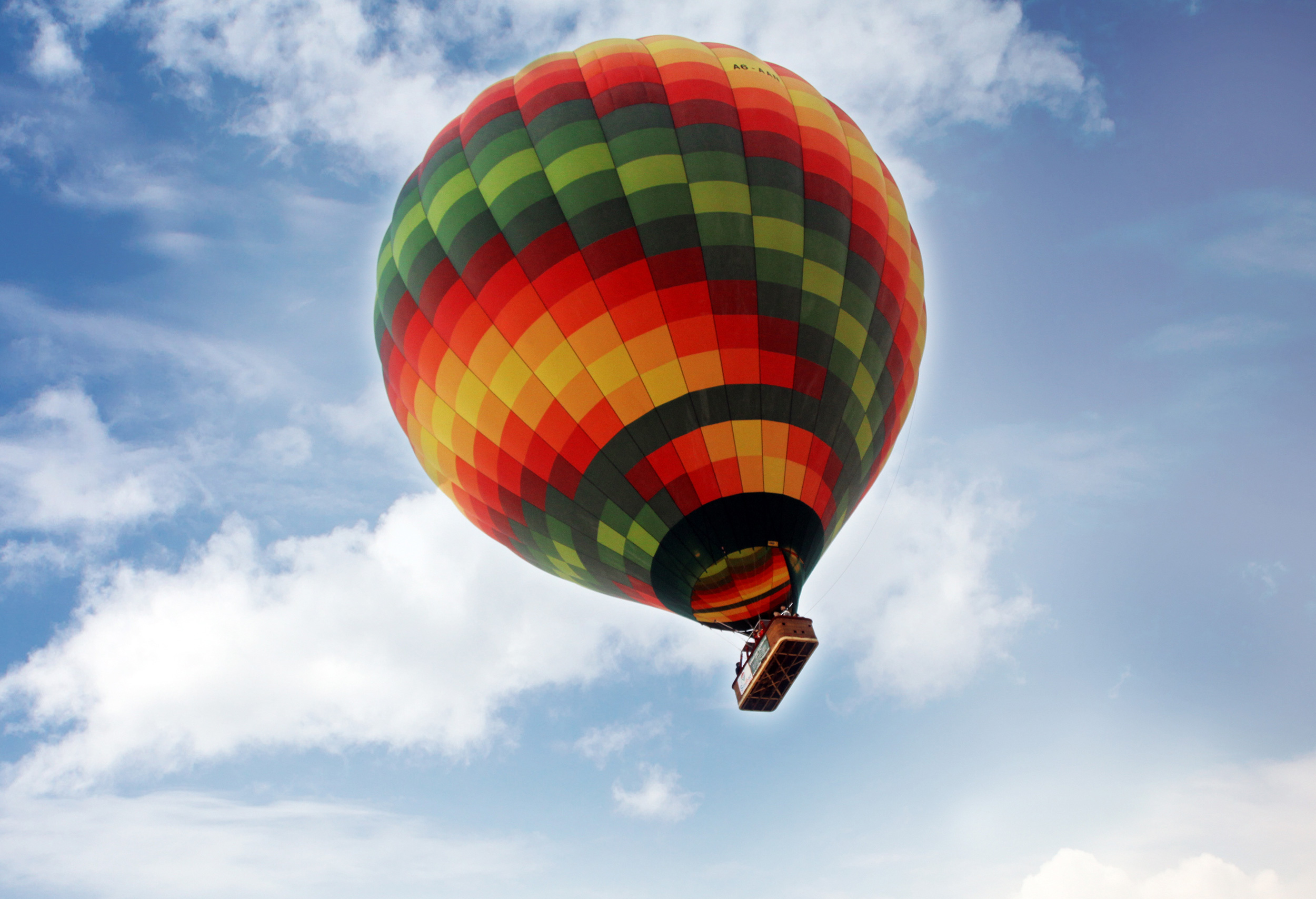 There is no experience that can be compared to witnessing a beautiful sunrise from a hot-air balloon. A memorable balloon ride with your valentine can be a really memorable experience that you can cherish forever.
Outside of the city of Dubai, the open wide desert gives an amazing view of the rising sun. As the balloon passes over the desert conservation reservation you can also see many animals such as the gazelle, oryx, and camel from the sky. You can really have a beautiful romantic experience on a Hot-air balloon with your loved one on Valentine's day.
Enjoy culinary masterpieces from desert cuisine in traditional Majlis while savoring your eyes on live performances. To get more into the desert flavor, enjoy a camel ride and explore desert flora and fauna in a conservation reserve. This unique set of activities from the list of romantic things to do in Dubai for couples is all fun and frolic and deserves a try this valentine's season.
Mornings
Availability : Available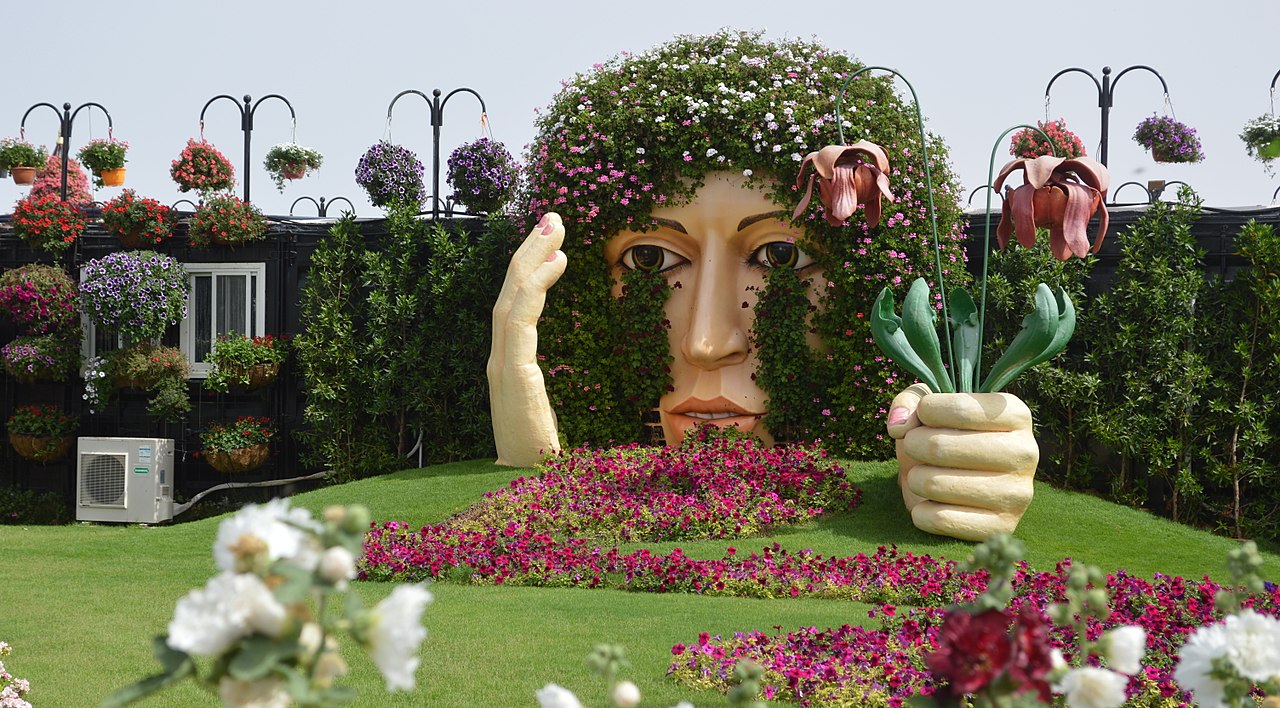 The Miracle Garden is the floral heaven in the world. This place is really popular because of the well-crafted garden which is based on the theme of Valentine's day. Inaugurated on Valentine's day 2013, Miracle Garden is no doubt one of the couple hotspots. It is a symbolic representation of love, peace, romance, and Valentine's day.
To keep up with your appetite, there are many food zones with tasty platters. In the garden, you can also witness famous buildings from across the world made with flowers. The beautifully decorated flowers in myriad and arch make for perfect photo zone for you. The whole arena of the garden is mesmerizing and floodlit with sensational fragrances from millions of flowers. So, let your love bloom in this flower world this love season with your Valentine's Day in Dubai.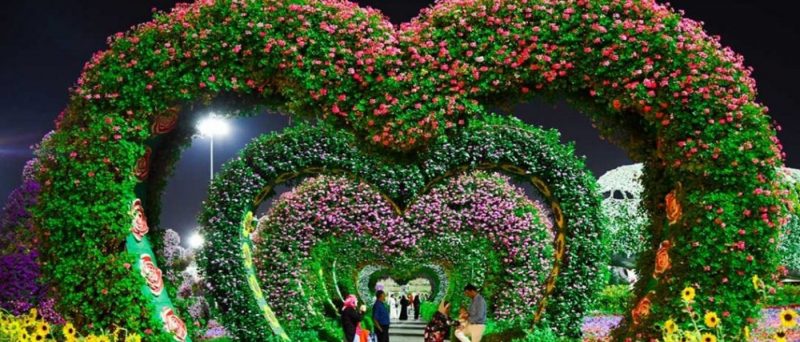 Based On Your Inquiry
Availability : Available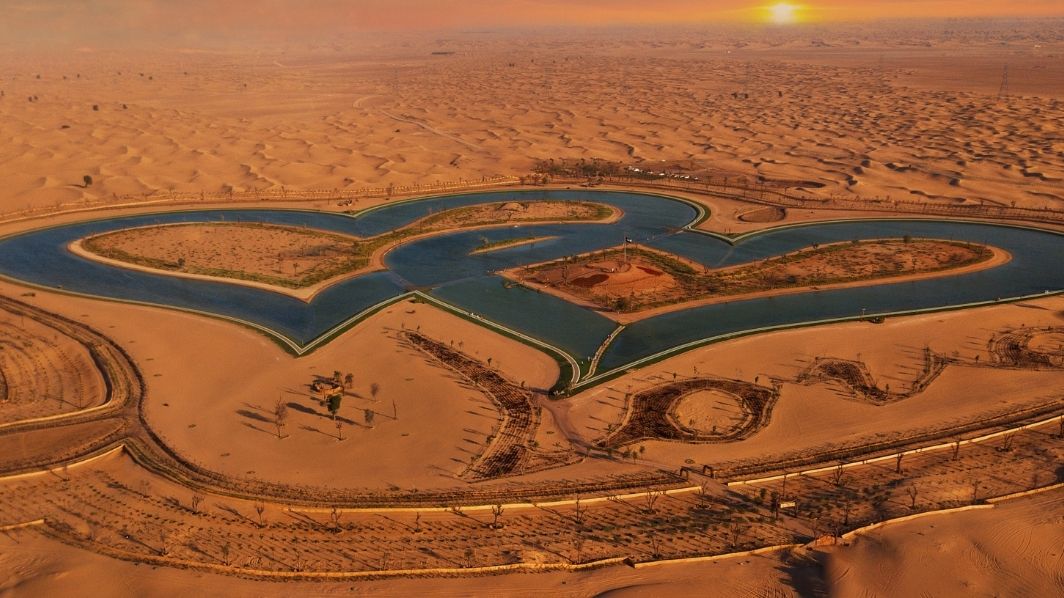 Al Qudra lake holds a special place for all the lovebirds and missing out on this spectacular spot on this Valentine season can't be a wise take. The Al Qudra lake desert safari assures you a day full of explorations, fun, amusement, and lovely moments worth capturing. In this venture, you would set aboard on a classic land rover defender with your bae and along with a guide set out for witnessing rich desert wildlife.
You can see a wide range of fauna roaming around in the conservation reserve. The key element of this unique package is the seraphic network of Al Qudra lakes. The eye flushing greenery and magnetically beautiful lakes make for a perfect backdrop for a lovely couple photo.
Sit by the lake and spend some quality time with your partner and end this memorable trip on a delicious note with a luscious barbeque dinner by the lakeside. This is certainly one of the best romantic things to do in Dubai for couples.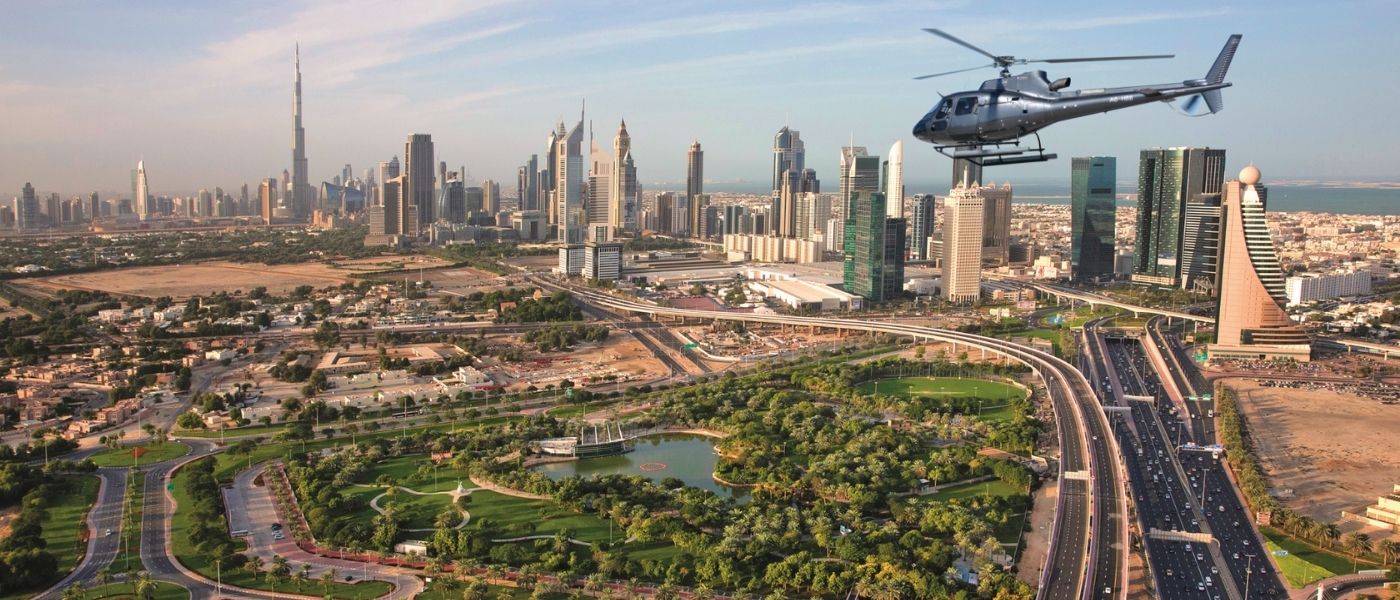 Take your love to new heights with an exceptional session of a helicopter ride over the glistening skyline of Dubai. No wonder, the city is enigmatic when viewed with a bird's eye. The beautiful panorama of the golden city, adventurous helicopter ride, mind-boggling heights, and your beloved with you. Isn't it a perfect fusion for a thrilling Valentine? So why not spend this Valentine's Day in Dubai. The helicopter tour comes in four options with differentiation  time duration and features:
Iconic tour: with a duration of 12 minutes, this tour allows you to drool over the Palm Jumeirah and Burj Khalifa while spanning the city with your eyes.
The Palm tour: this tour will last for 17 minutes and these 17 minutes are certain to add to your lifetime memories of Valentine as well as Dubai.
Vision tour: in 22 minutes of time span, savor your eyes over the iconic Dubai skyline while flying above old Dubai and Palm Jumeirah.
Odyssey tour: relish a full 40 minutes session of a helicopter tour and enjoy the beauty of Dubai in a birdy format with your partner.
If you and your partner are history buffs and enjoy spending time in ancient corridors then this tour is bliss for you this Valentine's. Travel with Emirates Ambassadors and explore the rich Emirati culture and history with this unique Heritage Trolley Tour. With this tour, you will be able to observe the royal standards and richness of Dubai's heritage as it will take you to the cultural hotspots of the city. You can also buy a gift for your partner from the heritage gift shop. Choose from custom routes of the tour and enjoy the profoundness of Dubai's history:
The Blue Line(Al Fahidi Historical Route)
This route initiates from Al Fahidi and takes you to historical apostles of the city. Each spot will get a 5-minute stoppage. The stoppage time at the Jumeirah Mosque will be 30 minutes so that you can exploit the photo opportunities. Guests will also be taken to the traditional Majlis.
Red Line(Jumeirah Mosque Historical Route)
The red line route starts from the Jumeirah Mosque and with 5 minutes subsequent stoppages at all points end at Al Fahidi. The guests are taken to the desert friends program.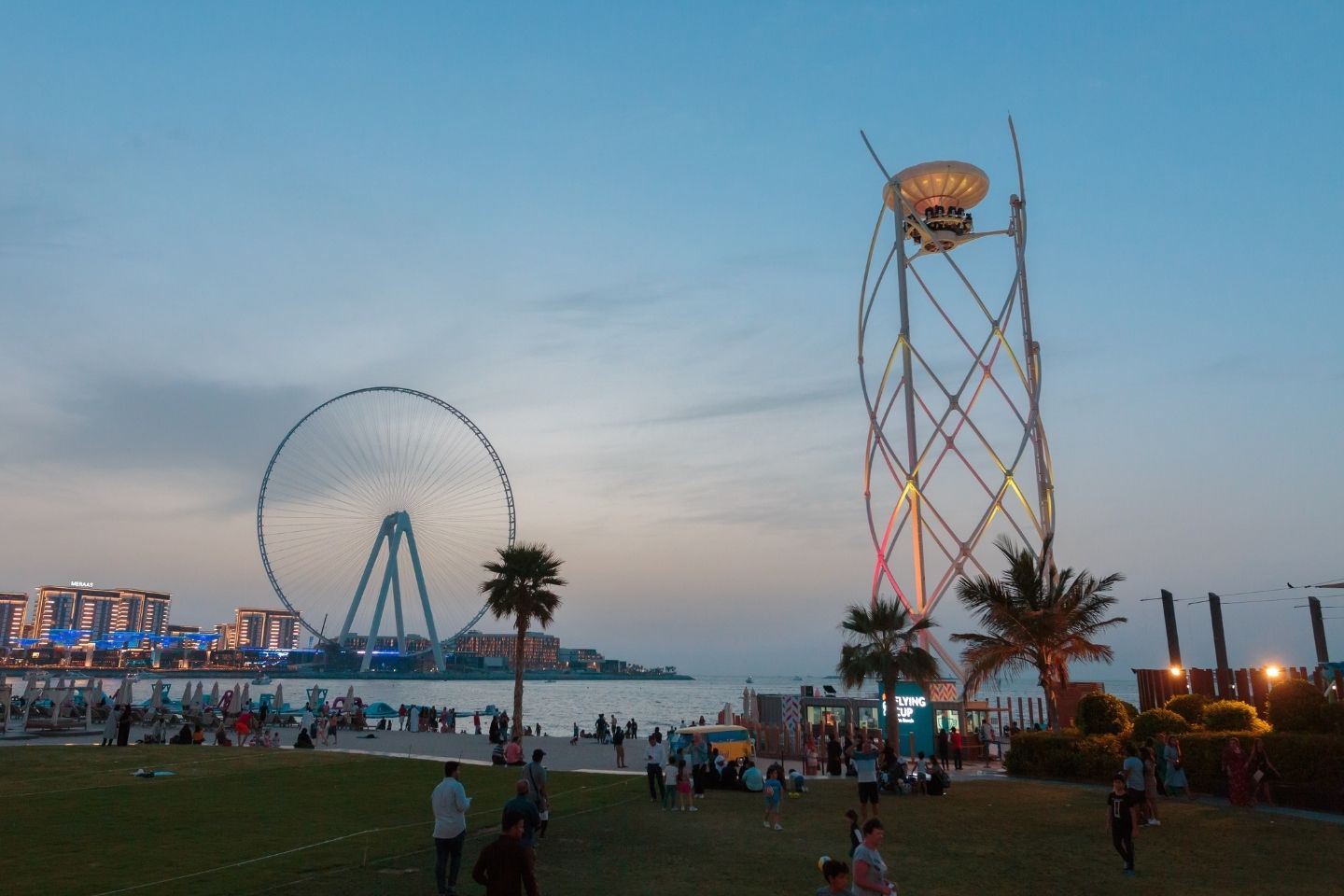 Heights and love have something in common about them as both works on your senses and when we infuse them with delicious food then the senses are sure to go ecstatic. This wonderful Fusion of senses is made available to you by one of a kind activity in Dubai, the flying Cup.
This unconventional yet fabulous activity takes you for a mouthwatering lunch. Sounds common? Wait! As this lunch will be 40 meters above the ground. The flying Cup takes you to the height and serves you with exotic platters from various cuisines.
You are securely belted to your seats and elevated up in the air where the staff will make way for your taste buds towards a unique culinary experience. This lifetime experience certainly deserves your Valentine's afternoon. So, get ready to take your beloved to delicious heights with this fantabulous activity of flying cup.
Dubai is an amazing city that is growing every day. And while you read this there might be some other activity arranged for the people visiting on Valentine's day. So if you plan a trip to Dubai on Valentine's day then you will surely enjoy your time with your loved one. Travelex Travels & Tours LLC is a travel agency that provides travel packages to tourists so they can enjoy their time with each other instead of planning different things for Valentine's day. So you can also subscribe to a travel package and enjoy your time without any worries.
Valentine's days are always special. So, make them even blissful with these amazing activities and romantic things to do in Dubai for couples. Spend this Valentine's day in Dubai and get life memories.