Theme parks are always sought after by people to spend their free hours in the utmost ecstasy and fun. But a new destination which redefined the theme parks in Dubai is Dubai Parks and Resorts. This one of its kind feature of Dubai tourism surpasses all the aspects of fun in Dubai as it is a one-stop solution to all travel concerns. Amidst the cloud-piercing skyscrapers and eye blinking skyline of Dubai, this terminal stands proud as it extends an appreciable share to Dubai tourism.
The Dubai Parks and Resorts splurges in approximately 25 million square feet of area which is up to brim filled with opportunities of ultimate fun and entertainment. From theme parks to dining spots and stay options, this state of the art innovation welcomes its guests with almost all the elements that can promise entertainment. If you want to know more about Dubai Parks and Resorts then here is everything you need to know about.
---
When to Visit?

The Dubai theme parks and resorts are open throughout the year and you can visit it according to your wish. If you want to ditch the sun then winter months November to March are the best time to visit and if you want to relish beating the heat in water rides then summer months April to October are good too. You can choose your preferred time but one thing is for sure that you are going to have a memorable time.
---
How to Reach Dubai Parks and Resorts?

Dubai Parks and Resorts are located on Sheikh Zayed Road, opposite Palm Jebel Ali in Dubai, UAE. You can reach Dubai Parks and Resorts either by public transport or by your own conveyance. If you travel on your own then take E11 Highway along Sheikh Zayed Road. Following the signs, you can reach the theme park.
If you want to travel by public transport then you can take the red line metro up to JLT Metro Station and from there you can hire a taxi for Dubai Parks and Resorts. You can also take Shuttle Bus for the destination.
Main Attractions in the Park
MOTIONGATE™ Dubai
Hollywood has always been intriguing and fascinating for the world and the Motiongate theme park celebrates this very craze for Hollywood to the fullest. This hugely deployed biggest theme park founded on Hollywood houses an exhilarating pack of 27 fun zones. The basic theme of the park stands on three most famous motion picture studios: Lions gate, DreamWorks Animation, and Sony Pictures Studio. The rides in the park are next-level fun and fun zones like the Hunger Games even got globally acclaimed. It is a tempting feature of this amazing theme park.
Zones in Motiongate™ Park
Columbia Pictures
Smurfs Village
Lionsgate
DreamWorks
Studio Central
In Motiongate you can explore the intricate movie-making process at Studio Central. The Smurfs Village express is also a fascinating element that is liked the most by the kids. Rides like Capitol Bullet Train, Dragon Gliders, etc. are full of adventure and thrill and can set your adrenaline to a flush. Woodland Play Park, Kung Fu Panda Academy, Penguin Air, Ghostbusters, etc. are also amusing sites of Motiongate.
Places to eat: Hotel Beastro, King Julien's Side Show Café, Mr. Ping's Noodle Shop, The Candy Apple, Baby Brent's Luncheonette, Very Smurfy Café, Dragon Flame Grill
---
MOTIONGATE™ Dubai Timings

Saturday to Wednesday
11:00 AM to 8:00 PM
Thursday & Friday
11:00 AM to 9:00 PM
Book Now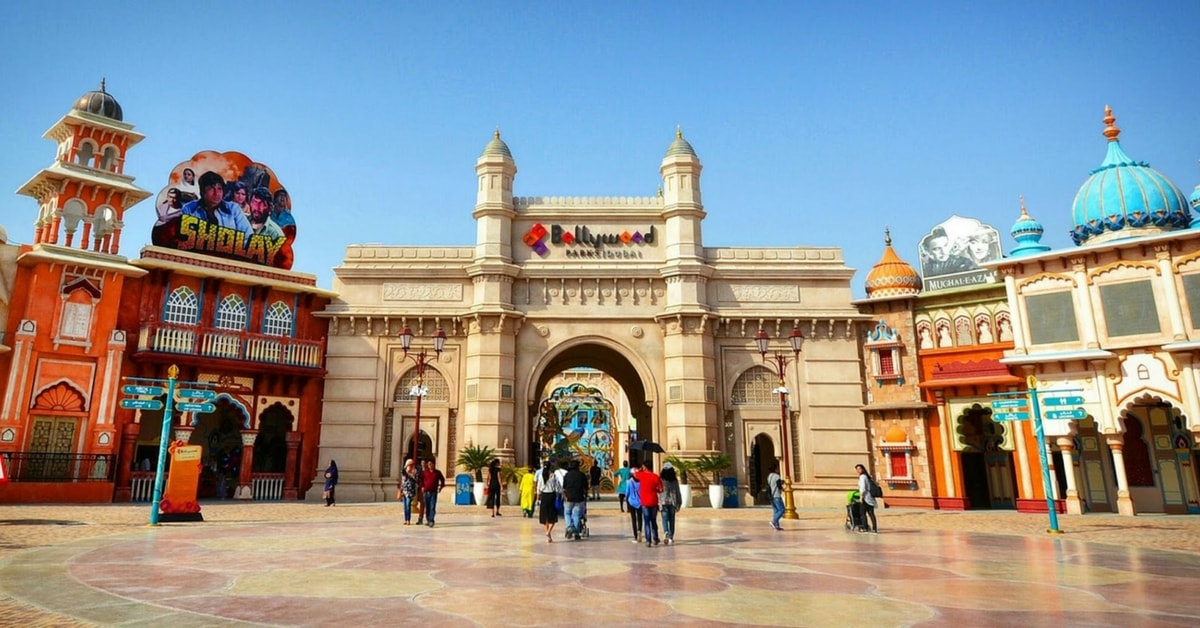 BOLLYWOOD PARKS™ Dubai
Bollywood has its fan following all across the world and comprehending this craze, Dubai Parks and resorts ventured into an undertaking of the largest and first of its type Bollywood themed park. You get to see a trailed variety of rides, live shows, entertainment zones, and theatres. Also, you can relish on some finest Indian cuisines to celebrate the essence of Bollywood.
Zones in Bollywood Parks™
Bollywood Boulevard
Mumbai Chowk
Rustic Ravine
Royal Plaza
Bollywood Film Studios
Imagine yourself in the hustle-bustle of Mumbai streets with all the shopping and feasting at the Mumbai Chowk and also enjoy blockbuster movies nostalgia rides and attractions. Get grooving on the famous train songs on the Mumbai Express stage. One of the most quintessential Bollywood elements in this theme park is Rustic Ravine. It is a typical rural landscape highlighting the backdrop of Bollywood's milestone movie, Sholay. In the Bollywood Film Studios you can relive your favorite movies like Krrish, Zindagi Na Milegi Dobara, Ra One, etc. and their characters.
Places to eat: Dine at theme dining spaces based on chartbuster movies like Rock On, Mughal-e-Azam, and Victoria Station Café.
---
BOLLYWOOD PARKS™ Dubai Timings
Sunday – Saturday
3:00 PM to 11:00 PM
Book Now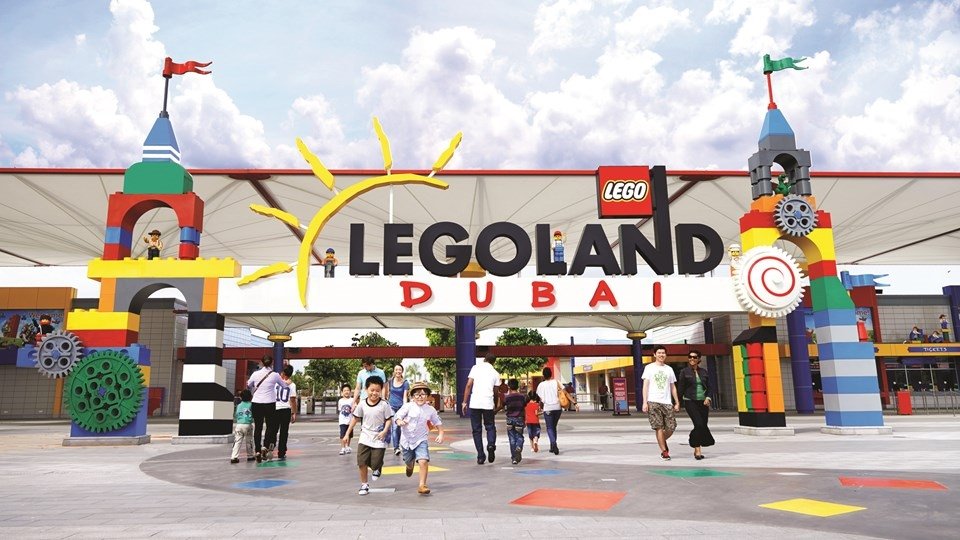 LEGOLAND® Dubai
Another charm of this Wonderland is Legoland. The Legoland is a first-of-its-kind theme park based on the latest craze among kids, the Legos. It is an immersive destination especially for kids to indulge in innovative and thought-provoking activities. For adults also it houses a huge range of rights each passing the levels of adventure. The place is a perfect spot for all Lego lovers as they can efficiently exploit their love for Legos in here.
Zones in Legoland® Dubai
Factory
Lego City
Imagination
Kingdoms
Adventure
 Miniland
This terminal is decked up with nearly 40 rides each differentiated by a unique potential of entertainment. You can explore The Lego City and enjoying the ride of a Boat, a plane, and many others. For fun rides, kids can discover their creative side in the factory of Legos which is the Middle East's largest Lego Store. Apart from these, technic twister, submarine adventure, Miniland, kingdoms zone, Duplo express, etc. are another fascinations of this unique establishment.
Places to eat: The Fried Chicken Co., Market Restaurant, Caesar's Pizza & Pasta Buffet, Sir Scoop-A-Lot, and The Café
---
LEGOLAND® Dubai Timings
Saturday to Wednesday
12:00 PM to 8:00 PM
Thursday & Friday
12:00 PM to 9:00 PM
Book Now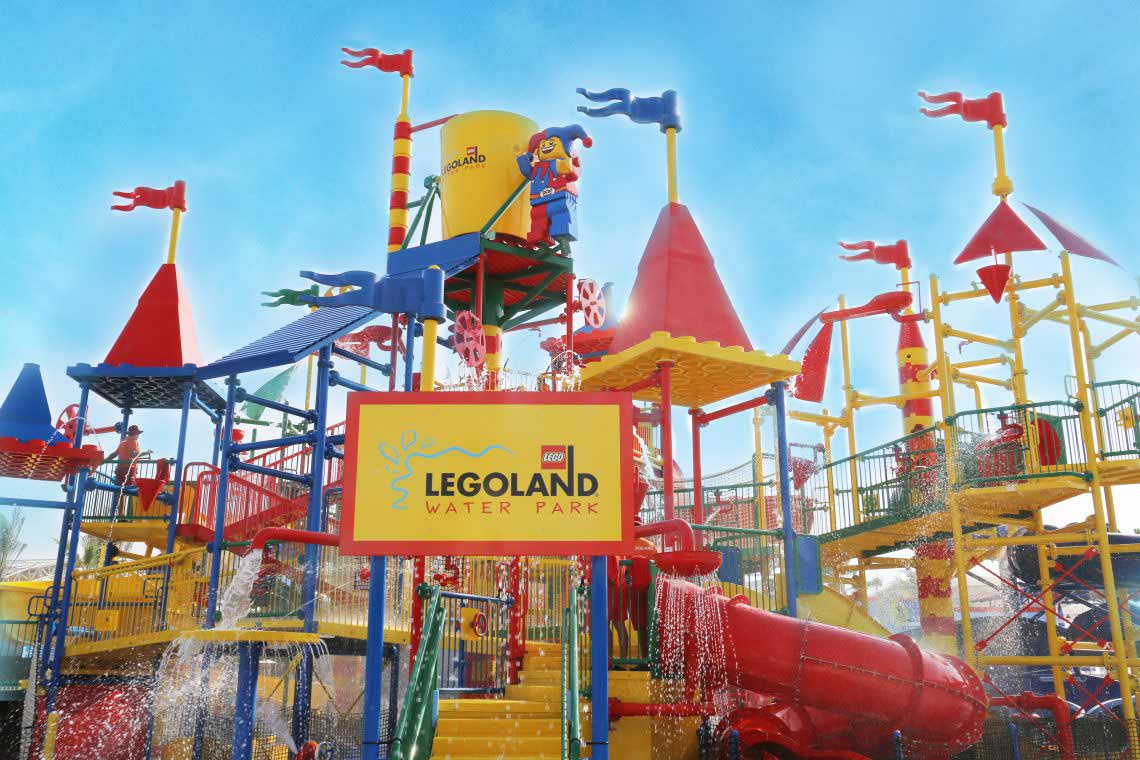 LEGOLAND® Water Park Dubai
Water is fun and so are legos. So, no doubt their combination is going to be a delight. Dubai Parks and Resorts boasts proudly about this blend in Legoland Water Park. Standing adjacent to Legoland Dubai, this place is perfect to hide from heat housing amazing rides and attractions. It is a perfect destination for families and especially kids as they get to enjoy a flushing version of their much-loved Legos.
Let your kinds be immersed into a session of building their own raft in the Build-a-raft river and amazes you with four intriguing slides with Duplo characters welcoming you time and again. Toddlers can enjoy these slides quite safely. For full family fun, enjoy at the Lego racers which is a sic lane slide, or go for a group rafting session in the Red Rush. A few other fun rides in this water park are Twist 'N' Spin with a double tube ride, Joker Soaker, and many more waiting to be explored.
Places to eat: Bricks Bites, Waves Bistro
---
LEGOLAND® Water Park Dubai Timings
Sunday to Saturday
10:00 AM to 6:00 PM
Book Now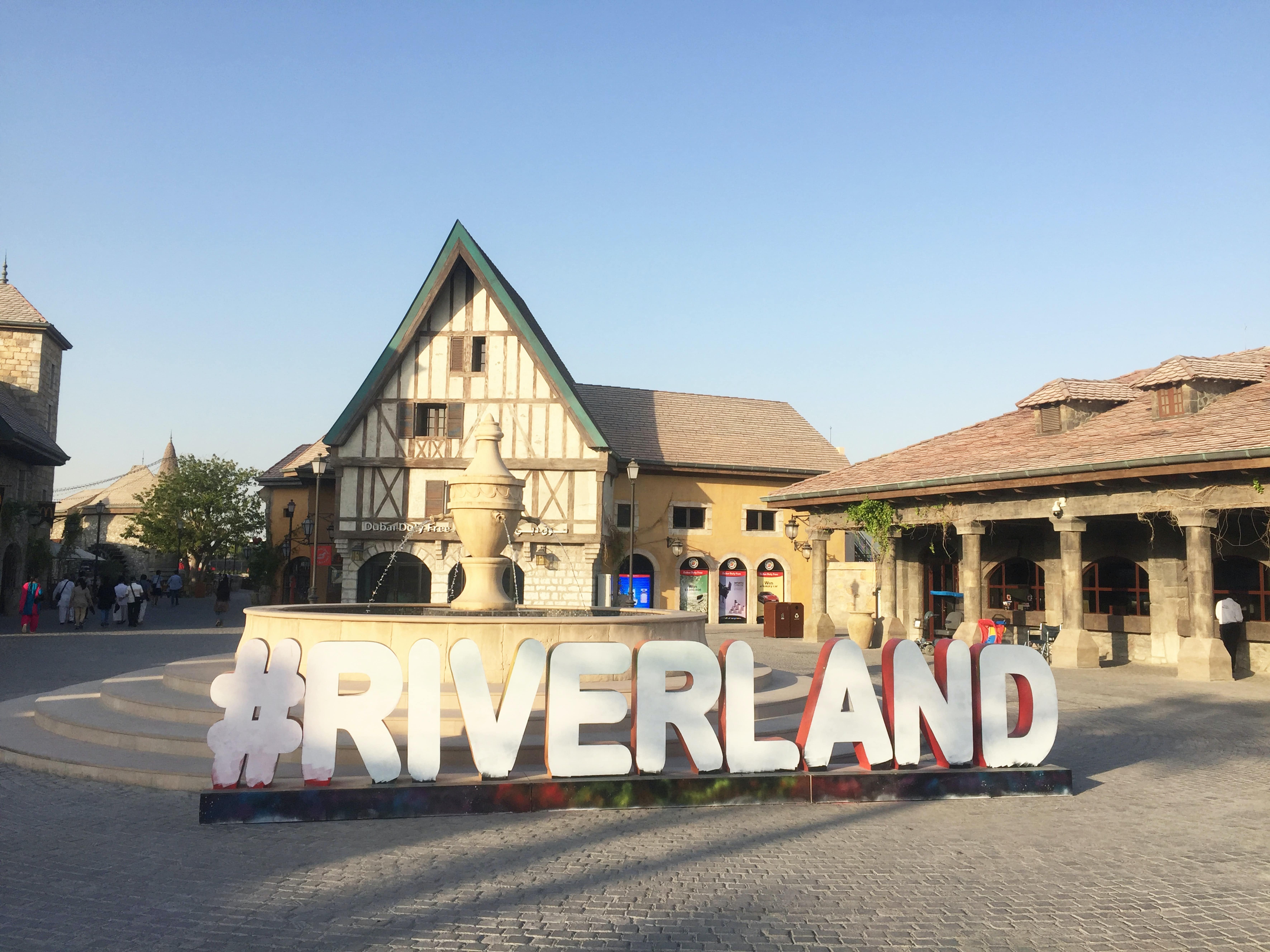 RIVERLAND™ Dubai
Dubai Parks and Resorts is determined to extend every possible fun and convenience to its visitors and in that direction, they put forward a 1 km long waterfront complex, Riverland Dubai, which is home to 50 dining areas, shops, activity zones, and entertainment stoppages. The ambiance, beauty, and sprawl of this area are breath-taking and the man-made river alongside makes the environment eclectic and vibrant.
Witness the typical 19th-century architecture at Peninsula and set your mood in the retro era at the Boardwalk. To introduce yourself to Asian manners, visit India Gate and for a European aroma, head for French Village displaying the authenticity of a traditional European village. You can get a lot of memories in the form of souvenirs in the Riverland and along with it an ultimate opportunity to indulge in recreational activities is also made available here. To keep your mood uplifted, catch up on some live performances in this complex.
Places to eat: Al Mashowa, The Coffee Club, Barbecue Delights, Famous Dave's, Superchix and more
---
RIVERLAND™ Dubai Timings
Saturday to Wednesday
10:00 AM to 11:00 PM
Thursday to Friday
10:00 AM to 12:00 PM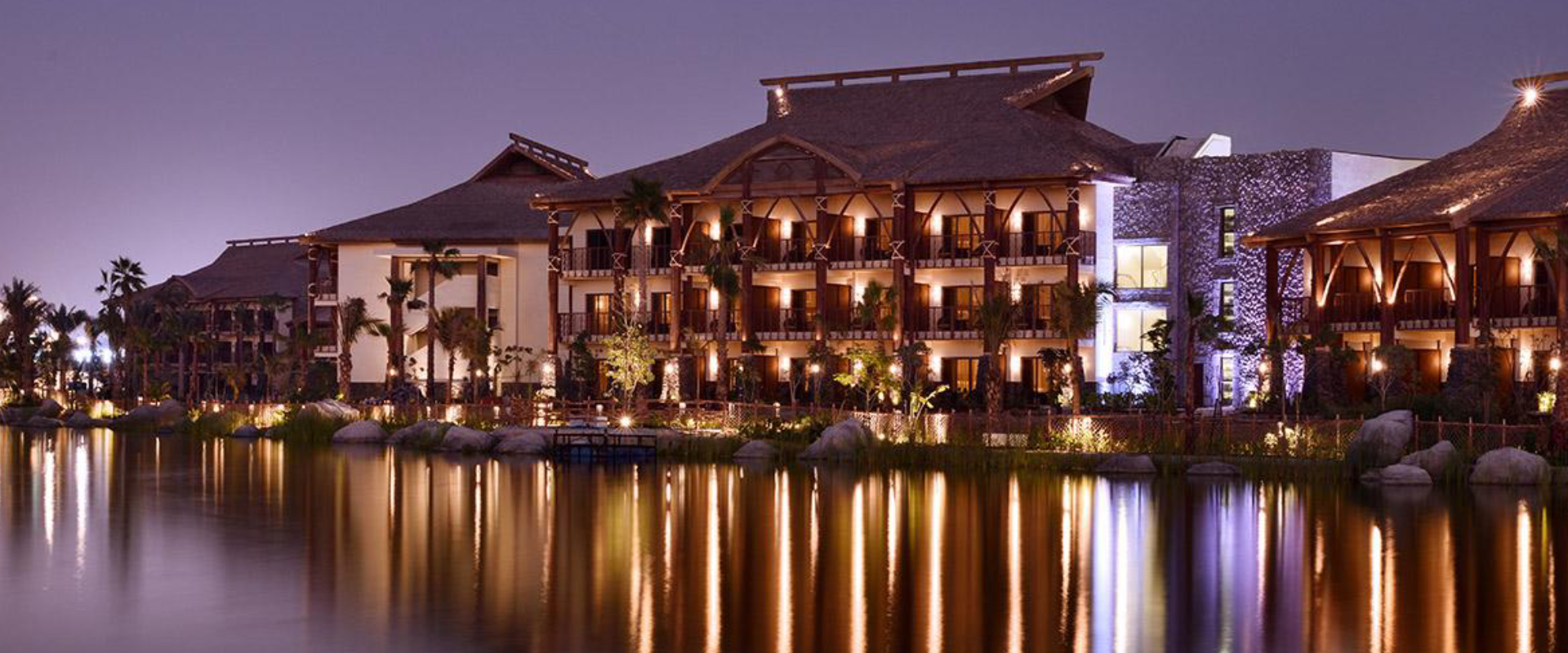 The Lapita
Dubai Parks and Resorts is short at nothing, neither entertainment nor size. There are many visitors who cannot satiate their fun appetite in a day and wish to stay back for a fresh round of the arena. For such fun seekers, the Parks and Resorts house a Polynesian themed accommodation, the Lapita hotel.  It is an extension of the Marriott Autograph and is all way plush and luxurious. The furniture and interiors reflect the culture and traditions of Polynesian culture which makes it an intriguing stay.
The collection of deluxe suites, rooms, and villas is fully embedded with all upscale amenities expected in a hotel of dreams. All the luxury facilities like spa, restaurant, bar, swimming pool, etc. are available for the visitors of Dubai Parks and Restaurants, to make their joyful experience more exotic. The premises of the Lapita also contain a retail shop.
Facts about Dubai Parks and Resorts
This unique ensemble of fun and entertainment is deployed in 25 million square feet of area and thus is the largest theme park in the Middle East of its kind.
The Bollywood theme park is the first and the only park based on this theme.
Just like Burj Khalifa, the Lego version of this skyscraper is also the tallest in the world spanning a vertical 17 meters space.
You can get a customized Lego brick for you in the Lego land Dubai.
The Lego land Dubai has the maximum number of Lego models in the world.
Additional services in Dubai Parks and Resorts
To make the fascinating trip of visitors even more convenient, Dubai Parks and Resorts extends the following facilities:
ATM's, Locker rooms, first aid services, drinking water spots, strollers for renting are available within the premises of theme park.
Riverland has a service of the tram which allows passage between theme parks.
Stay and dining options are available within the park.
Nearby Attractions to Dubai Parks and Resorts
Some of Dubai's famous attractions near Dubai Parks and Resorts which you can cover with it are
Dubai Marina
Dubai Miracle Garden
Skydive Dubai
Ski Dubai
Conclusion
Dubai's every element for its visitors is fantastic in all terms but Dubai Parks and Resorts have set a benchmark of a single destination fun potential. Time spent here is sure to be full of thrill, adventure, and ecstasy. So, next time when your kids insist on a vacation full of fun or you yourself want a break from your hectic schedule then book tickets for this terminal of pleasure and indulge into a plethora of amusement.
Dubai Parks And Resorts FAQs
What are Dubai Parks & Resorts?
Dubai Parks and Resorts are a one-stop solution to fun comprising of 4 adventure and theme parks; Motiongate, Bollywood Theme Park, Legoland Dubai, and Legoland Water Park. It is a huge complex with a recreational zone Riverland and hotel Lapita. It is a perfect place to spend family time in acute fun.
What is there to do at Parks and Resorts in Dubai
At Dubai Parks and Resorts, you can enjoy at any of the four major attractions. Explore about Bollywood at the Bollywood theme park and enjoy the rides based on the Hollywood theme at Motiongate. You can have fun with Legos in the Legoland Dubai or splash and spin in Legoland Water Park. To dine, there are so many luxury places within the park. In the Riverland section, you can buy souvenirs and can enjoy various recreational activities.
How much do Dubai Parks and Resorts tickets cost?
Do you need to book Dubai Parks and Resorts tickets in advance?
It is always better to book your tickets well in advance to prevent the line or ticket rundown. You can book online with Travelex Travels & Tours LLC.
What's the best way to see Dubai Parks and Resorts?
To fully explore Dubai Parks and Resorts you must spend 2-3 days to see every section of the park patiently.
What hotels are near Dubai Parks and Resorts?
Various hotels are near this complex such as the Lapita (within premises), Rove at the park (0.91 km), JA lake view Hotel (7.26km).
What restaurants are near Dubai Parks and Resorts?
Leopold's of London
Olive Garden
Famous Dave's Barbeque
Pascal Tepper
Ecco Pizza and Pasta
Is Dubai parks and resorts indoors?
It is both indoors and outdoors. Some of its attractions are indoors like the Riverland, some parts of Motiongate, and Bollywood theme Park. While rides are open-aired.