People who love travel must be having a hard time due to this pandemic. However, there are many COVID-19 free safe countries to travel on different continents that are ready to welcome you whole-heartedly. When coronavirus hit the world, many countries took the necessary action and closed its borders for the foreigners and thus, made their homeland free of COVID-19 very soon. Though you may not have heard about some of these countries earlier it seems the right time to travel the unknown. Have a look at the destinations that you can consider for travel at this moment:
Note: For COVID-19 related information go to who.int
COVID safe countries to travel in 2020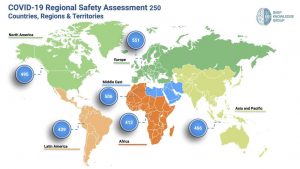 In a study by Deep Knowledge Group, a list of the safest countries to travel in the world has been released. There were around 130 parameters to determine the safety in the country. And as per this study, Switzerland has been ranked as the 'safest country to travel' post-COVID-19. However, South Sudan is the least safe country in this list of 200 countries. It is important to note that these are the safest countries and not the COVID free countries in the world. So, here are the top 20 safe countries to travel in the post COVID world:
1. Switzerland
2. Germany
3. Israel
4. Singapore
5. Japan
6. Austria
7. China
8. Australia
9. New Zealand
10. South Korea
11. United Arab Emirates
12. Canada
13. Hong Kong
14. Norway
15. Denmark
16. Taiwan
17. Saudi Arabia
18. Hungry
19. Netherlands
20. Vietnam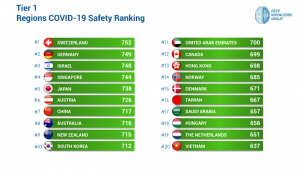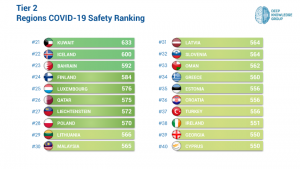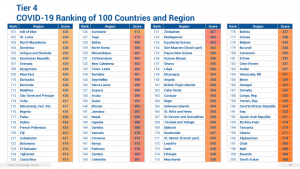 ---
—— COVID Safe Middle East Countries ——
Dubai
Travel requirement – Health declaration forms, COVID test report, conditional quarantine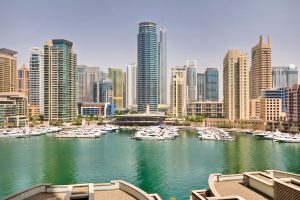 Dubai has always been an attraction to travelers across the world due to its retail therapy, sand dunes, and turning small things or events into grandeur. It has also been ranked as corona safe country due to the successful control of the virus and maintaining hygiene and other preventive measures in place. It is also the reason that the country is playing a host to India Premier League (IPL) 2020.
Saudi Arabia and the United Arab Emirates
As of June 22, 2020, United Arab Emirates and Saudi Arabia have made their place in the top 20 COVID safe countries ranking 11 and 17 respectively. This list was released by Deep Knowledge Group counting in as many factors as 130. The factors included are regional safety, emergency preparedness, monitoring and detection index, and more.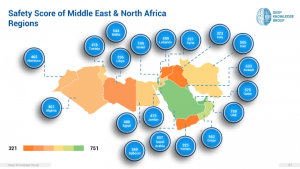 ---
—— Top 5 COVID safe countries in Europe ——
Travel requirement – Health certificate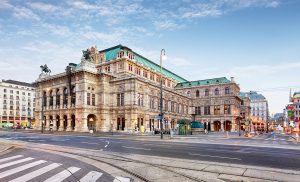 With health clearance that you are COVID free, Vienna in Austria welcomes the travelers. Offering panoramic vistas and nature at its best, it is one of the best destinations that you can head for this December.
Travel requirement – No quarantine
Croatia is one of the most favorite and safest countries in Europe to travel post-pandemic. Since the country has state-of-the-art medical infrastructure and facilities, hence it is one of the ideal destinations to visit. One of the best things is that you need not be quarantined.
Travel requirement – No quarantine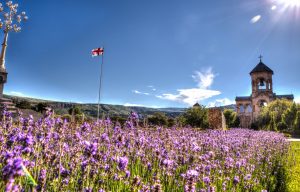 It is one of the least impacted countries in the world and its capital, Tbilisi makes an ideal destination to be visited. Also, it is COVID safe and no quarantine is required.
Travel requirement – Conditional quarantine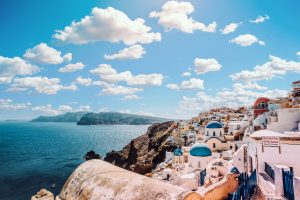 Greece is one of the least impacted countries in Europe by the coronavirus. Corfu is the majestic Greek island that is just perfect to rejuvenate and sunbathing and icing on the cake is that it is totally COVID safe. The travelers have to quarantine themselves, however, there is an exception for a few countries.
Travel requirement – No quarantine
Again, it is one of the safest countries in Europe where no quarantine is required. There are many regions in the country that are corona-free. Hence, it makes a superb gateway for those who love traditional architecture.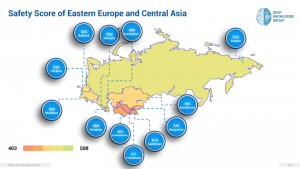 ---
—— COVID safe countries in Asia ——
Travel requirement – Health declaration forms, COVID test report, conditional quarantine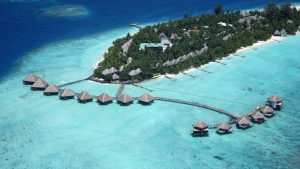 When the Maldives reported a few coronavirus cases, the authorities took strict preventive measures to contain the spread of the virus. And it successfully managed the pandemic outbreak with an 84% recovery rate. The island nation was completely shut down for around 4 months. However, it has been now declared as one of the safest countries to travel where there are the least chances of virus transmission.
---
—— COVID safe countries in Africa ——
Africa is not ahead of Asia as it hasn't declared COVID safe countries yet. Once there is some COVID safe country, you can check the update here.
COVID free countries under different continents (August 2020)
Continent: Oceania
After its first case of coronavirus was reported, the authorities in New Zealand took strict measures to control the transmission of the deadly virus. While the tally of COVID-19 patients reached 1500, the death toll reached 22 in this Pacific Island nation. However, on June 9, 2020, lockdown throughout the entire nation was lifted and for the last few months, not a single case was reported.
Latest update: 4 new COVID-19 cases were reported in Auckland on August 11, 2020. Though the source has been unknown, the authorities have completely banned the travel to Auckland.
On March 19, 2020, the first coronavirus infected case was found in Fiji. Following its first case, the country banned all of the flights from a few countries. While there was complete lockdown for educational institutes and other non-essential businesses, 15-day quarantine was compulsory for those who were arriving in Fiji. After all the measures, the country declared itself corona-free on April 20, 2020.
The Solomon Islands is an offbeat destination. Travelers can reach there by flights only. The nearest airports are Australia, Papua New Guinea, and Vanuatu.  When coronavirus prevailed, the Solomon Islands made medical certificate mandatory to enter the destination. However, the people who travel from the countries where coronavirus cases were prevailing needed a quarantine period of 14 days.  No cases have been reported since the pandemic outbreak.
Vanuatu also followed the strict regulations to prevent coronavirus in the country. Since February, the nation mandated the medical certificate from those who traveled from infected places and also required quarantine for a period of 14 days.
Samoa is an island nation having a population of over 200000 people. There was only one suspected case of coronavirus and since then the Prime Minister declared an emergency in the nation, closed the borders with other nations, and also limited the movement of its population. The country hasn't lifted the lockdown yet.
Since the pandemic outbreak, there was no case within Kiribati. Since early March, travelers were restricted to enter Kiribati and those who traveled from infected countries had to provide a medical certificate confirming that they are corona free and also stay quarantined for at least 14 days.
Micronesia has also been strict about coronavirus prevention. The authorities banned all the travelers from the countries where there has been even one confirmed case of COVID-19. Since January, people from China were banned to enter Micronesia whether they quarantine themselves or not. Also, natives of Micronesia were not allowed to travel to the countries having coronavirus cases. With such strict measures, Micronesia has remained COVID-free throughout the pandemic.
Tonga is in close proximity to Fiji and following the first confirmed COVID-19 case in Fiji, the nation closed its borders to most of the foreign countries. There was a complete lockdown since then. Even when the special flight for locals of Tonga stuck in foreign countries began, quarantine was mandated for all of them.
Following the coronavirus pandemic, the only international flight to the Marshall Islands was banned for 3 weeks temporarily. Also, it banned travelers from China to enter the nation and since then, it has been free of coronavirus.
On March 22, 2020, Palau went under lockdown completely. The authorities brought back its stuck citizens from different countries successfully without importing a single virus. However, there was one suspected case which came out to be negative later. After the coronavirus pandemic, the government quickly set up the required healthcare services building quarantine facilities, isolation units, and a virus laboratory.
The population of Tuvalu is around 11807 and it has been ranked as one of the least visited countries with less than 200 travelers annually. That's probably the reason, it has remained COVID-19 free nation.
Nauru is such a small country that anyone can take a stroll around it in just a day. It has also been ranked in one of the least visited countries around the world. Since the pandemic outbreak, the country has remained coronavirus free.
Continent: Asia
North Korea has been one of the first COVID-free countries in Asia. The country could manage it by closing its borders with China on January 21 and didn't open it since then. It has also shut its borders with other countries as well. Those people who enter the country have to face strict measures such as quarantine for the period up to 2 months.
Turkmenistan is surrounded by Afghanistan, Iran, Kazakhstan, Tajikistan, and Uzbekistan. All of these countries have been infected coronavirus. Since early February, Turkmenistan canceled all of its flights to and from China. A quarantine center was established at Turkmenabat, the second largest city of the country to check if the visitors have symptoms of COVID-19.
On May 15, 2020, Timor-Leste was declared corona-free. The country imposed strict measures against coronavirus. After the first COVID-19 case was reported, the country restricted the movement of its population closing the educational institutes, limited public gatherings, and quarantining passengers from international arrivals.
Continent: Africa
With a population of less than 1 Lakh, Seychelles had only 11 confirmed cases of COVID-19 and these cases also showed complete recovery without any death. On April 8, 2020, the country put a temporary ban on cruise ships and restricted flights from China, Italy, Iran, and South Korea. On August 1, 2020, the travelers were allowed from the countries that were at low or medium risk. It makes Seychelles one of the COVID free countries in Africa.
Continent: Europe
Though Vatican City is adjacent to Rome, the place which was highly infected by the virus, the country reported only 12 COVID-19 cases. And those cases were also recovered completely on June 6, 2020. Since then, there has been no recurrence of the cases. Vatican City is one of COVID free countries in Europe.
Continent: North America
Saint Kitts & Nevis had 15 COVID-19 cases and those cases recovered completely on May 19, 2020. The country has a population of only 52441 people and witnessed the first few cases at the end of March. To prevent the transmission of the virus, the country shut down the educational institutes, airports, and other non-essential businesses. It also ordered a curfew and mandated the people to wear masks.
Countries Without COVID Quarantine Requirements on Arrival
While you travel to a new destination, it's too boring to stay quarantined and waste your 14 days in a hotel. There are a few countries that require travelers to be quarantined compulsorily or conditionally. However, there are a few countries that are made quarantine-free. So, here is the list of quarantine-free countries:
1. Spain
2. Italy
3. Mexico
4. United Kingdom
5. Turkey
6. Germany
7. Austria
8. Japan
9. Greece
10. Poland
11. Netherlands
12. Portugal
13. Denmark
14. Switzerland
15. Belgium
16.Egypt
17. United Arab Emirates
18. Brazil
19. Uzbekistan
20. Tunisia
While there are some countries where no quarantine is required and in other countries, there is conditional or mandatory quarantine. So, here is the complete list of countries where you can head for safe travel.
Country
Quarantine Rules
France

Conditional Quarantine

United States of America

Compulsory Quarantine

China

Compulsory Quarantine

Thailand
Compulsory Quarantine
Hong Kong
Compulsory Quarantine
Malaysia
Compulsory Quarantine
Russia
Compulsory Quarantine
Canada
Compulsory Quarantine
Saudi Arabia
Compulsory Quarantine
Croatia
Conditional Quarantine
India
Compulsory Quarantine
Ukraine

Conditional

Quarantine

Indonesia
Compulsory Quarantine
Singapore
Compulsory Quarantine
South Korea
Compulsory Quarantine
Vietnam
Compulsory Quarantine
Ireland
Compulsory Quarantine
South Africa
Compulsory Quarantine
Czech Republic
Compulsory Quarantine
Bulgaria

Conditional

Quarantine

Australia
Compulsory Quarantine
Argentina
Compulsory Quarantine
Finland

Conditional

Quarantine

Costa Rica
Compulsory Quarantine
Andorra
Compulsory Quarantine
Lithuania

Conditional

Quarantine

Azerbaijan
Compulsory Quarantine
Algeria
Compulsory Quarantine
Sweden
Compulsory Quarantine
Philippines
Compulsory Quarantine
Georgia
Compulsory Quarantine
Chile
Compulsory Quarantine
Norway
Compulsory Quarantine
Syrian Arab Republic
Compulsory Quarantine
Iran
Compulsory Quarantine
Albania
Compulsory Quarantine
Cuba
Compulsory Quarantine
Kyrgyz Republic
Compulsory Quarantine
Colombia
Compulsory Quarantine
Peru
Compulsory Quarantine
Jordan
Compulsory Quarantine
Puerto Rico
Compulsory Quarantine
Uruguay
Compulsory Quarantine
Cyprus
Compulsory Quarantine
Israel
Compulsory Quarantine
New Zealand
Compulsory Quarantine
Myanmar
Compulsory Quarantine
Lao PDR
Compulsory Quarantine
Zimbabwe
Compulsory Quarantine
Oman
Compulsory Quarantine
Malta
Compulsory Quarantine
Qatar
Compulsory Quarantine
Guatemala
Compulsory Quarantine
Latvia
Compulsory Quarantine
Nigeria
Compulsory Quarantine
Lebanon

Conditional

Quarantine

Panama

Conditional

Quarantine

Côte d'Ivoire

Conditional

Quarantine

Ecuador

Conditional

Quarantine

Paraguay

Conditional

Quarantine

Botswana

Conditional

Quarantine

El Salvador

Conditional

Quarantine

Namibia

Conditional

Quarantine