Travelex Travels and Tours always paid utmost attention to provide refreshing and fun-filled packages and keeping the tradition resumed, here we present amazing UAE staycation deals in the Emirates; Dubai, Fujairah, Ajman and Ras Al Khaimah. We all know that UAE is amongst the most richly cultured countries, and each Emirate conveys a different yet robust ambiance of the heritage of the nation.
To indulge in the traditions of the Emirates, staycations are quite viable options. So, check out the tailored staycation packages in UAE:
Dubai always keeps its arms open for all the visitors with all the warmth. Keeping the culture of Dubai intact, the hotels of this city of grace ensures world-class facilities and services to all the visitors. The hotels and resorts in the city serve to be one of the best spots for staycations. They infuse class, luxury, indulgence, grandeur, and every other adjective that can define a staycation worth your savings. Hence, if you are a local from Dubai or an international traveler, the Staycation deals UAE are here to flaunt your senses and provide your family and loved ones with a beautiful time. So, be ready for a gateway amidst the lap of nature and far away from the hustle-bustle of your daily chores with these amazing options in Dubai: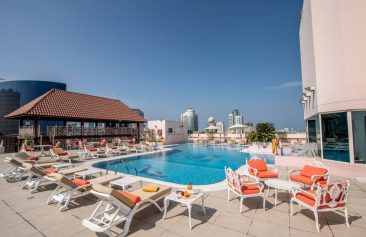 Carlton Hotels & Suites
Each Carlton Hotel & Suite provides a customized and personalized experience to its guests, exquisite amenities, and palatable delicacies from across the globe.
Consistent of 299 rooms in different styles, it caters to the needs of every global guest in the form of deluxe rooms, junior suites, and executive suites.
At a convenient and premier location, Carlton Tower is ideal for business and leisure travelers who look for a premier stay.
With easier connectivity to Dubai International Airport, Carlton Downtown is one of the finest 4-star hotels and an ideal pick for business travelers.
It is a 5-star hotel offering a traditional hospitality experience along with impeccable modern amenities in the heart of Dubai.
Lapita Dubai Parks & Resorts
Embrace the magnificence of Dubai at Dubai Parks & Resorts at Lapita. Offering a relaxing and thrilling staycation, it is certainly one of the best hotels in Dubai. With popular theme parks, it has immaculate options to keep you engaged and entertained while you earn lifetime memories to cherish. Its grandeur is no less than a 5-star hotel in Dubai. The staycation deal starts at AED 699 only.
Attractions
Chill at Dubai Parks while you get its free access.
Have some fun time at Legoland Park and Legoland Water Park.
Get nostalgic at Bollywood Park and Motiongate Dubai.
Note: Due to the unprecedented situation of COVID-19, only the MOTIONGATE™ Park is accessible at present.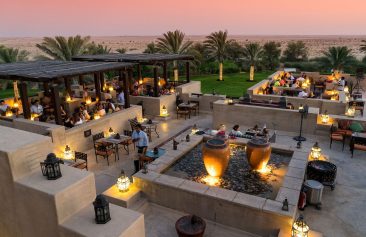 Bab Al Shams Desert Resort and Spa
The very first thing that strikes our mind on hearing about Dubai is, Deserts! No doubt that this subtle beauty nestled in the cozy sands conveys the magnificence of the Gold City quite aptly. The property is a perfect medley of baroque setting and a traditional environment. The resort offers you an extensive range of activities and indulgence options from the roots of Dubai. In fact, it is the best vicinity for a staycation if you are seeking for an exotic yet authentic desert escape and all this just with a shed of AED 599 per room on weekdays from your wallet
Attractions
Traditionally designed contemporary rooms with all facilities of a royal hospitality zone.
Activities like camel rides, falconry exhibitions, archery, etc.
Temperature-controlled swimming pools to let the guests indulge in aquatic fun.
Al Hadheerah restaurant with its super luscious dishes and cultural fare.
Serene vistas and the resort's overwhelming ecosystem.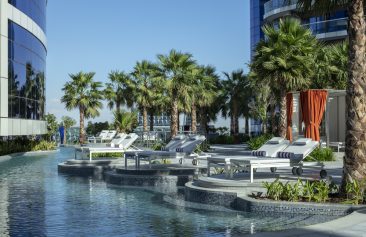 Paramount Hotel Dubai
Hollywood is quite fascinating for its audience and to cater to that idea, Paramount Hotel Dubai has adapted the Hollywood theme. Located in Dubai Downtown, the hotel offers state-of-the-art amenities and surroundings that will steal your heart. Offering the best hospitality, Paramount Hotel Dubai offers celebrity treatment to its every guest.
Attractions
Get the feel of Hollywood in every minute detail of Paramount Hotel Dubai. The rooms are quite spacious and airy and to add to it, offer breath-taking views.
From a private cinema to a large swimming pool, this hotel won't let you get bored during your stay. There is a kids' zone for kids to play and get entertained. Also, don't forget to rejuvenate yourself while you get a spa or sauna bath.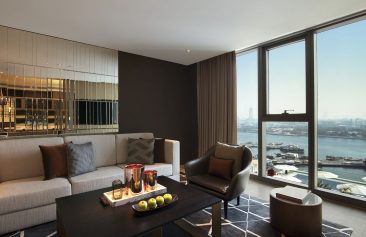 Al Bandar Rotana
The majesty of Dubai Creek can't be sprinkled in words, as, this bright water track puts paradise to shame with its grace. Situated on the bank of it is the Al Bandar Rotana Dubai Creek Hotel which quite rationally mirrors the splendor of the creek. Situated on the Baniyas Road, the hotel is a premium staycation spot to subsidize your head earned free time. With astonishing facilities to compassionate services, the hotel and its staff turn every stone to make your visit phenomenal. The amount you need to spend here for booking yourself classic time is AED 260.
Attractions
Spacious, airy, and we'll furnish rooms.
5 food and beverage stop to show you real treat.
Picturesque view of the city from rooms as well as the food zones.
A fully functioning gym to treat your muscles.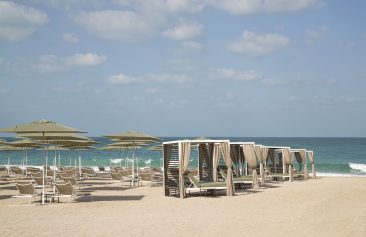 Caesars Resort Bluewaters Island
Oasis island settings are always a treat to the senses and Caesar's resort resides in the best of it. It is an iconic staycation spot for all those who are looking for tranquil surroundings and bewitching facilities. From premium grade dining to striking interiors, every aspect of this 5-star amenity is enough to leave you gawking. In fact, the name of the hotel is not just for the sake of grandeur, but they treat every guest in a way like the great Caesar.  The staff and services knit together a spellbinding stay for you.
Attractions
Challenge your adrenaline at the Laguna waterpark.
Enjoy the cove beach and soak in all the essence of Dubai.
Have fun while experiencing various water sports to chase your heartbeats.
Stroll around the seraphic environs of the resort.
Indulge in fun activities at the Mattle play town.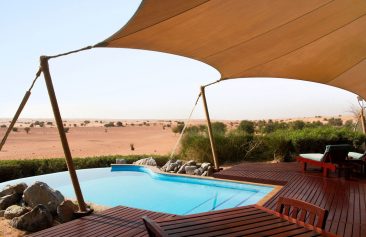 Al Maha Desert Resort and Spa
Neighboring luxuriant palm groves, charming awnings, and iconic quintessential sand dunes, the Al Maha desert resort and spa reprise the desert fun in a completely luxurious manner. Trading with the panorama of the Hajar mountains, the property boasts about serene vistas and soothing surroundings. The attentive and welcoming staff makes your stay convenient and comfortable and the range of indulgence keeps you in a merry mood all the time. To book yourself a room in here, you just need to spend AED 3,199.
Attractions
Experience Camel and horse riding
Enjoy traditional archery and falconry
Head for a desert safari to soak in desert thrills.
Hop in for aquatic fun in the swimming pool.
Relax your insights with a deep spa.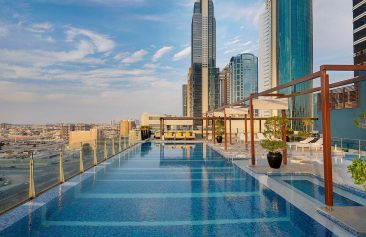 Voco Hotel Dubai
For the people who like to experience an amazing staycation in Dubai, Voco Hotel Dubai is an ultimate option. The amenities and ambiance at this hotel are of top-notch level offering comfort and extravagance which is hard to find anywhere else. Nestled at the prime location of Sheikh Zayed Road, every detail that Voco Hotel Dubai offers is beyond your imagination.
Attractions
Offering the newest amenities, the rooms of Voco Hotel Dubai are large in space and provide great
ventilation. The interior is so good that you probably would not want to step out of the room.
No one wants to sit idle on vacation; hence, Voco Hotel Dubai offers a large range of activities that would extend your stay. The facilities include a spa, lounge, swimming pool, and rooftop pool bar.
Food is something that adds taste to holidays and to give you the best taste, Voco Hotel Dubai has a food zone where you can taste the best delicacies.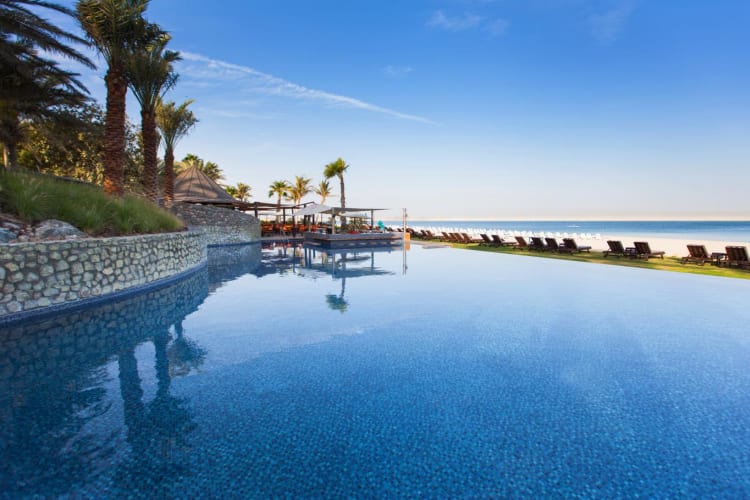 JA Resorts & Hotels
To kick start your weekend plans, with Staycation deals UAE, has to be this exceptional royal Staycation that is situated close to the heart of the city. JA Resorts and Hotels offer a range of stays to the guests with a bunch of fun-filled activities surrounding it. What makes this place a perfect destination for the weekends with your friends and families is its ability to calm down your senses yet, providing everything that your adrenaline demands.
Another Jebel Ali resort to feature as a part of the staycation deals UAE will be the Palm Tree Court resort. Deals at this resort start at AED 499.
JA Beach Hotel is one of the best staycations in UAE and is famous for the relaxing stay it offers to its guests. Its resort offers all the leisure and sports facilities to keep the guests entertained 24*7.
Stay at this 5-star award-winning hotel and embrace the glory of Dubai here only. The staycation deals start at AED 350 only.
Being one of the seven emirates of the United Arab Emirates, it is the capital of the emirate. Known for its gulf
beaches, there are numerous staycations in Ras Al Khaimah where you can spend your holiday and have the best time. The staycation deals in Ras Al Khaimah starts as low as AED 299. Its regional history and archeological exhibits often attract the attention of the visitors.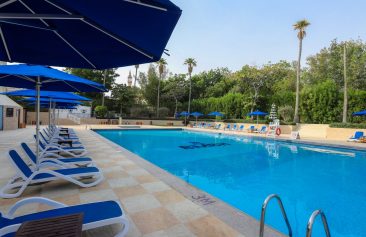 Bin Majid Beach Hotel
If you are looking for the best staycation in UAE, then we must say that Bin Majid Hotels & Resorts awaits your grand presence. It is one of the best staycation deals in Ras Al Khaimah, where you can enjoy yourself to the fullest by staying in these resorts that undoubtedly is going to teleport you to a whole new dimension. Also, the cuisine options are limitless. There are two staycation options in Ras Al Khaimah: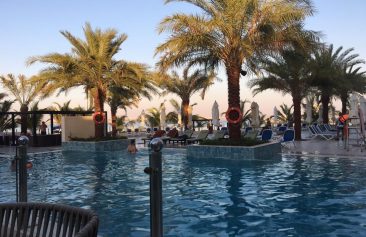 DoubleTree by Hilton Ras Al Khaimah
The DoubleTree by Hilton Ras Al Khaimah can offer something for each of its guests and won't let their presence down. Thanks to its wonderful lovely locations that attract the guests to this resort. Other features including all the nearby tourist spots and shopping malls are less than ten minutes of drive away from its resorts. Staycation deals in Ras Al Khaimah for the basic guest room with pool view during weekdays starts at AED 399. The two properties are as following: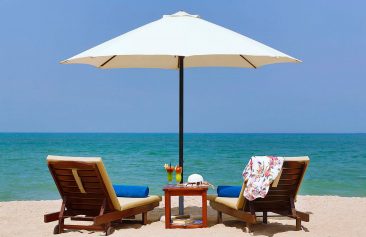 Hilton Ras Al Khaimah Resort & Spa
The Hilton resort & spa at Al Khaimah will provide the guests with an all-around adventure weekend experience. Rooms are spacious, and the private beach of the resort only adds to the glory. The beach spreads across a vast 1.5km stretch. So be it couples, families, or solo travelers everyone will get their necessary privacy in such a large private beach. As this staycation deals UAE is a little away from Dubai city, hence the guests get to enjoy the place without the chores of city life. Staycation deals in this resort start at AED 450 per day for a guest room that includes breakfast with it.
Attractions
Jebel Al Jais mountain range is the famous spot of attraction from the resort.
Tagging along the world's longest zip line to get a view of the pearl farms can be a great activity to take part in during the weekends.
The resort's warm offering of all the exquisite Lebanese cuisine will give your taste buds their much-needed relaxation.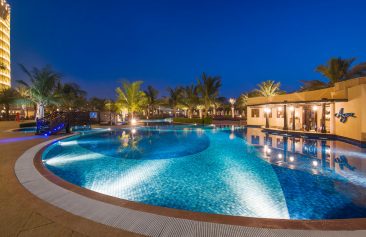 Waldord Astoria Ras Al Khaimah
For everyone looking forward to visiting another palace resort in Ras Al Khaimah as part of the staycation deals UAE, then the Waldorf Astoria stands to be a marvel of its own. The resort is renowned for the king like treatment it usually offers to its guests. Even with all these pandemic tensions going on with the tourists, there is nothing to be worried about as the Waldorf Astoria has been effective in maintaining and keeping up to the highest safety standards. The turquoise water of the Arabian Gulf bestows upon the private beach spread across 350 meters. Fine dining restaurants of the resort offers a range of cuisines from across the globe. The tariff for a day at this resort for a classic room with breakfast will be 949 AED.
Attractions
Witness the Omani coastline with the view of the Al Hajjar Mountains from the resort.
There is a full-sized 18-hole golf course to please your Sunday golf sessions.
Top-notch fitness studios, water sports, luxury spas are some of the other attractions of the Waldorf Astoria.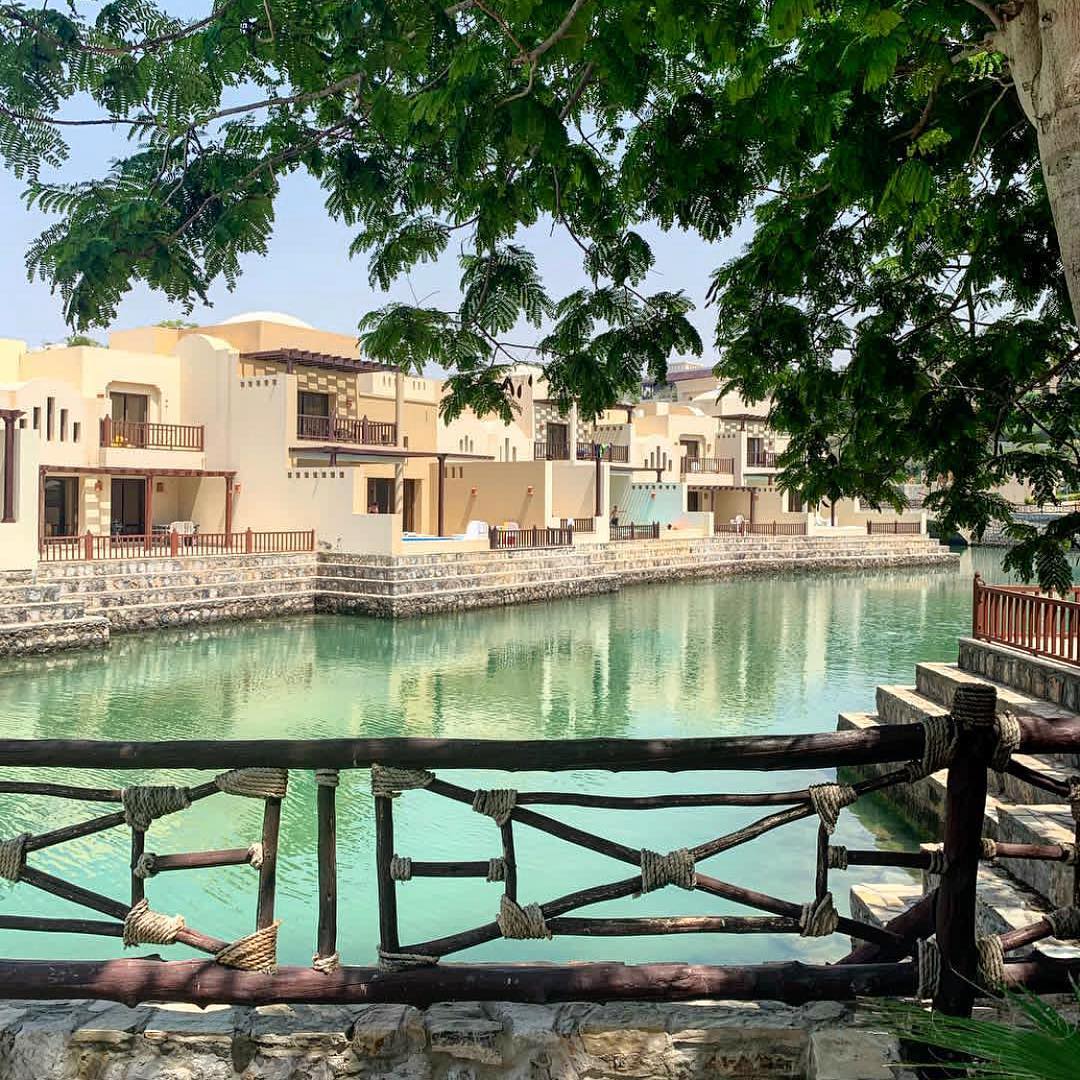 Cove Rotana Ras Al Khaimah
If you are looking for a perfect home, which is just a little far away from your home, then head to The Cove Rotana Resort this upcoming weekend. Here you get to do whatever you feel like, but first, how about unwinding a little of yourself. Another occasion where you can make use of the Cove Rotana at its full glory would be by hosting a special business meeting or an event for your brand in the resort's banquets. Besides that, for midweek gateways, the resort will have several leisure activities. A guest room under the best staycation UAE deal will get you this resort for AED 349 for a night, including breakfast.
Attractions
There are 78 luxurious villas in this resort, each having three bedrooms perfect for the big families.
The Cinnamon all-day restaurant has some of the most provoking cuisines in its menu.
Fujairah is also one of the seven emirates. Though it is popular for snorkeling it has never failed to amaze tourists with its staycation options. There is a limited number of staycations in Fujairah, however, the number doesn't limit the fun and thrill as they offer a wide range of activities and amenities for the guests to enjoy. With lots of facilities provided at these staycations, it seems like a holiday spot where you can enjoy like any other tourist destination.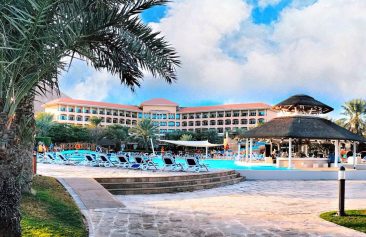 Fujairah Rotana Resort and Spa
Rotana Beach Resort at Fujairah stands among the top destinations for weekend travel goers. The cool breeze flowing in from the Indian Ocean with the stunning view from the Hajar Mountains is something guests can expect at this best staycation UAE. All the resort's rooms open up a panoramic viewing experience for the guests. Luxury services like international standard Spas will provide the guests with a relaxing experience. The sports court of the resort is another place where guests can have their fun time out by playing one of their choices. Kids from the group will be entertained as well by the exclusive kid's club of the resort where they can enjoy their favorite indoor games. Staycation deals at this resort during the weekends start at 399 AED for a day, including breakfast.
Attractions
The rooms of the resort provide a beautiful ocean view to the guests.
Mozaique, the in-house restaurant of the resort, serves some of the best dishes from across the globe.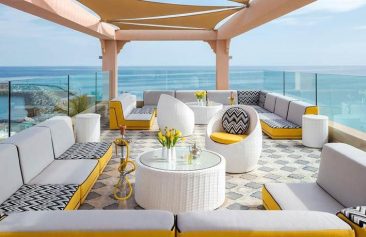 Fairmont Fujairah Beach Resort
Offering a staycation deal in Fujairah starts only at AED 485, Fairmont Fujairah Beach Resort is the luxury that leisure travelers seek for. The guests can soothe their eyes with its archaeological and heritage sites at this resort. It is a Mecca for art lovers as it is an art-inspired resort offering a bird's eye view of Fujairah. With a background of rugged terrain, it is a destination where natural beauty meets modern facilities.
Attractions
Fairmont marina sea view rooms with panoramic scenery.
Enjoy at the resort relishing a range of international dishes.
Reasons You Should Book Top Staycation Deals UAE from Travelex Travels & Tours LLC
Assured booking as we collaborate with the top resorts and hotel chains across UAE to provide the best
experience to our customers.
Hotel booking availability from us strictly complies with all the new norms as per the COVID-19 safety
guidelines issued by the UAE government.
Our platform offers an effortless booking experience for our customers, where the package prices are
competitive, and refund/cancellation is flexible.
Conclusion
The best staycation UAE lets you unwind yourself and to have a good time with your family amidst all the chaos happening around the world. These staycations mentioned in this blog maintains some of the highest standards of safety while complying with all government norms and policies. Therefore, if safety is your prime concern while traveling during such unprecedented times, then there is nothing to be worried about, as TravelX has got you well covered here.