Every tourist spot sums up its touristic charm with something exceptional and extraordinary in providing experience to its visitors and Dhow Cruise in Dubai is one of such overwhelmingly luxurious attribute of Dubai tour. It is one of the amazing experiences of junketing in Dubai as it is embedded with all features of a splendid water ride. Lavish Dhow Cruise is all about luscious platters, the magnificent panorama of Dubai skyline, and buoyant live performances. Can anyone ask for more? A Dhow Cruise ride is something you certainly should not give a miss as it can give you amazing experiences for life.
If you are still not convinced or if convinced and want to know deeply about Dhow Cruise in Dubai then here is almost everything you should know about this immersive activity: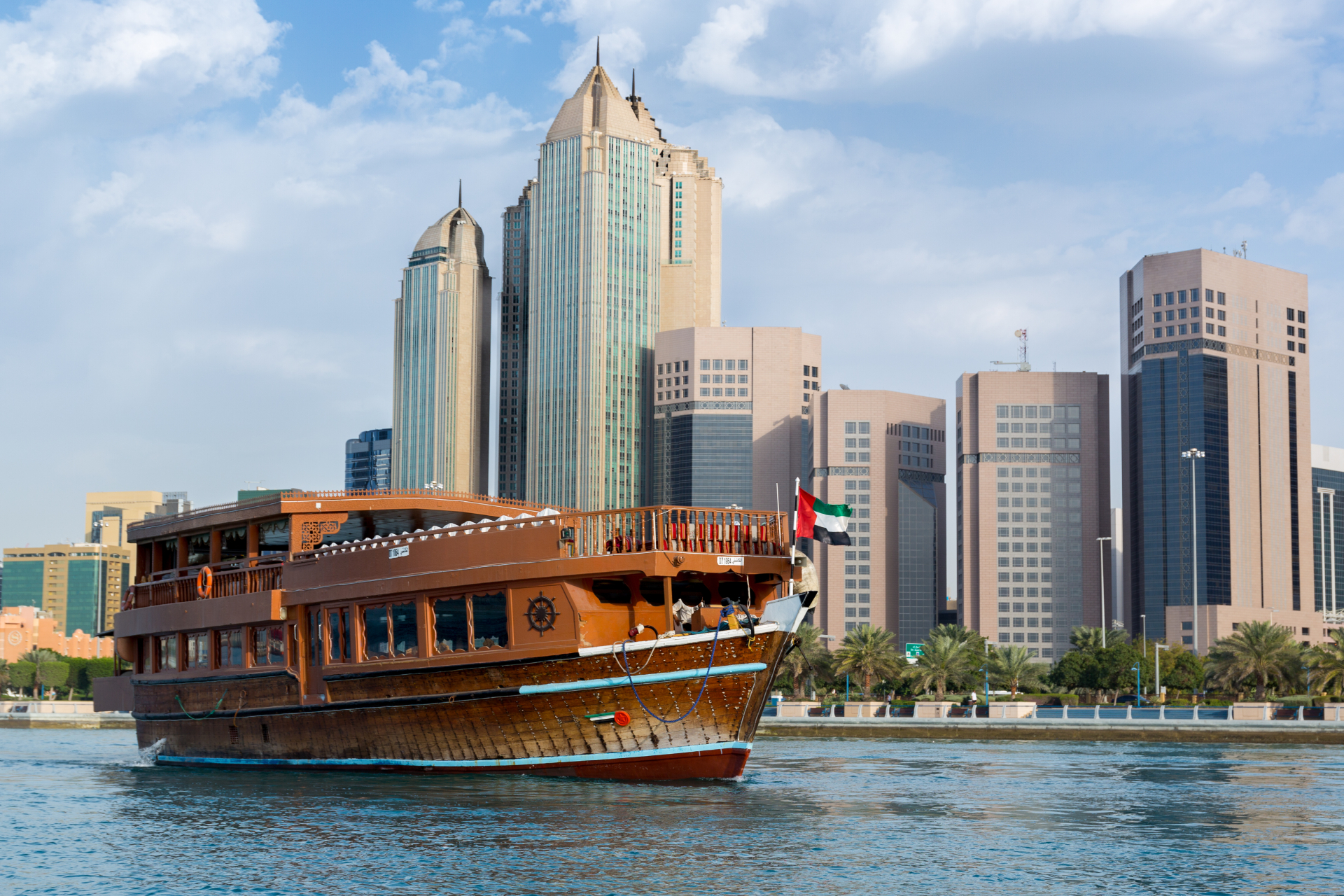 If you are a complete naïve to Dhow Cruise in Dubai then allow us to acknowledge you with this amazing dinner cum distant sightseeing cruise. The Dhow Cruise is an astonishing and charming wooden vessel like Emirati Boat which comes back from the roots of Arabian Culture. With the growing touring scope of Dubai, Dhow Cruise is given a plush touch to provide ultimate comfort and some royal feel to its passengers. The cruise's capacity varies from 30-250 people depending on the size of the cruise.
The Dhow Cruise ride is made worth remembering by commuting it with some of the finest cuisines over the board, glitzy live performances, and lively ambiance of the boat. Apart from this, soaking up mighty skyline of Dubai from a distant horizon is something that cannot be poured into words. To sum up your Dubai tour, this ride is unbeatable.
---
Which is the Best Time to go for a Dubai Dhow Cruise?

Dhow Cruise in Dubai is something you will enjoy any time of year and day, but, depending on your taste and preferences, you may choose your suitable time. If you are a summer bird, then you can try sailing on the water with breeze beating the sun overhead on a bright sunny day. You can also try evening ride to witness the relaxed city after a hot day from waters. If you want it to be a cool experience, then you must hop on this cruise during winters. An evening run on a Dhow Cruise ditching the sun by cool breeze slaying over water and splashing your already mesmerized senses with more pleasure is something you would remember for a lifetime. Apart from it, gazing at the skyscrapers of Dubai under stars and glittery lights is also a backing point to visit it in the evening shift.
---
What're The Timings?
Dhow Cruise Dubai Marina: 7.15 pm
Dhow Cruise Dubai Creek: 6.15 pm
You can enjoy this ride at any time of the year.
---
Dhow Cruise Location In Dubai

We know you would be like, 'Dhow Cruise, okay. But where and how to reach? 'Relax! We will help you with everything about Dhow Cruise Dubai Marina and Dhow Cruise Dubai Creek, which are the two prime locations in Dubai.
The address of both of these locations are:
Dhow Cruise Dubai Marina– Marsa Al Seef opposite British Consulate, Bur Dubai
Dhow Cruise Dubai Creek– Dhow Cruise Marina, Behind Signature Hotel Apartments & Spa
---
How to Reach

For reaching these terminals, you can opt for the Red Metro line. For Dubai Marina, the closest station is the DMCC Metro Station and for Dubai Creek, it is the Burjuman Metro Station. If you are going for a package then you can avail the services of private or sharing transfers in which you will be picked up and dropped off.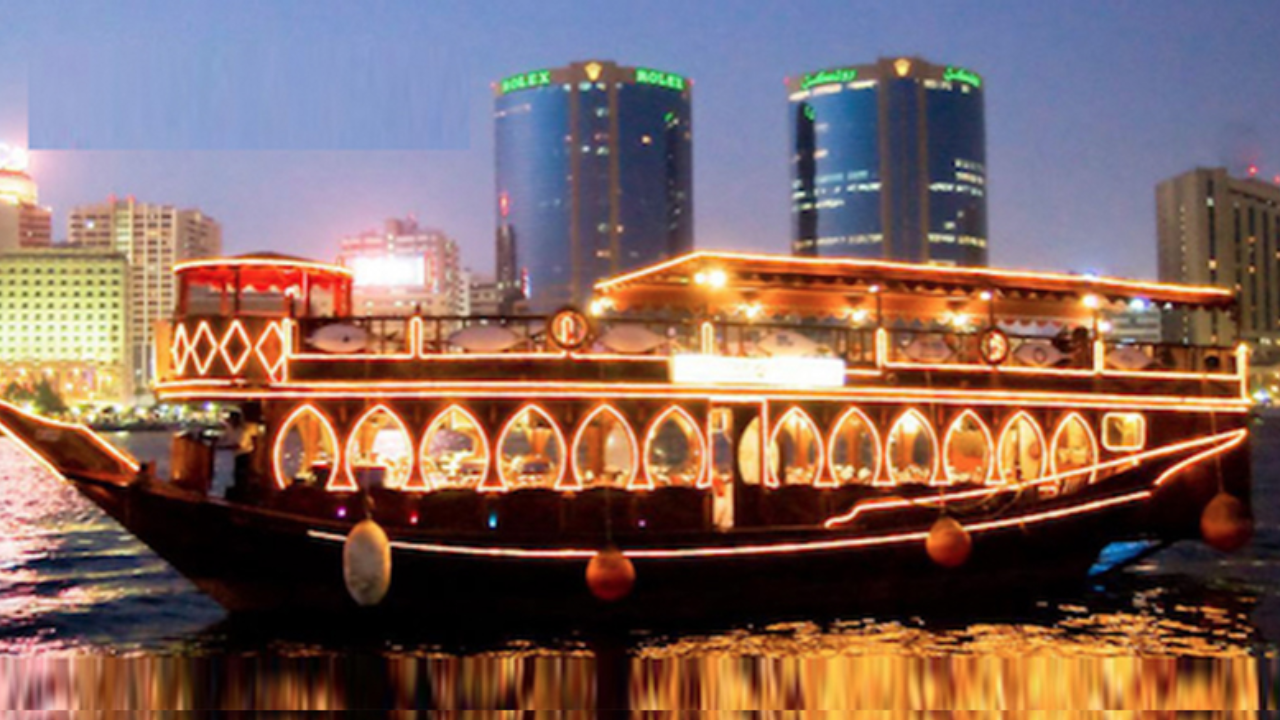 Dubai Creek is a beautiful flow of water which is brimming with culture and traditions of Dubai since ages. It had served as the lifeline to commercial and economic aspects in Dubai. Sandwiched by Bur Dubai and Deira on either side, Dubai Creek offers great views of the city. You can witness traditional souks of Arabian culture from Dubai Creek Dhow Cruise and can explore the views of both old and westernized Dubai simultaneously.
Dhow Cruise Creek allows you to take a deep insight into Dubai's historic wealth outlined with scenic landscapes. You can see ancient silhouettes like wind towers, movements of locals bustling in the markets, mesmerizing shores, and whatnot. A Dhow Cruise Creek is a complete heritage drive of Dubai.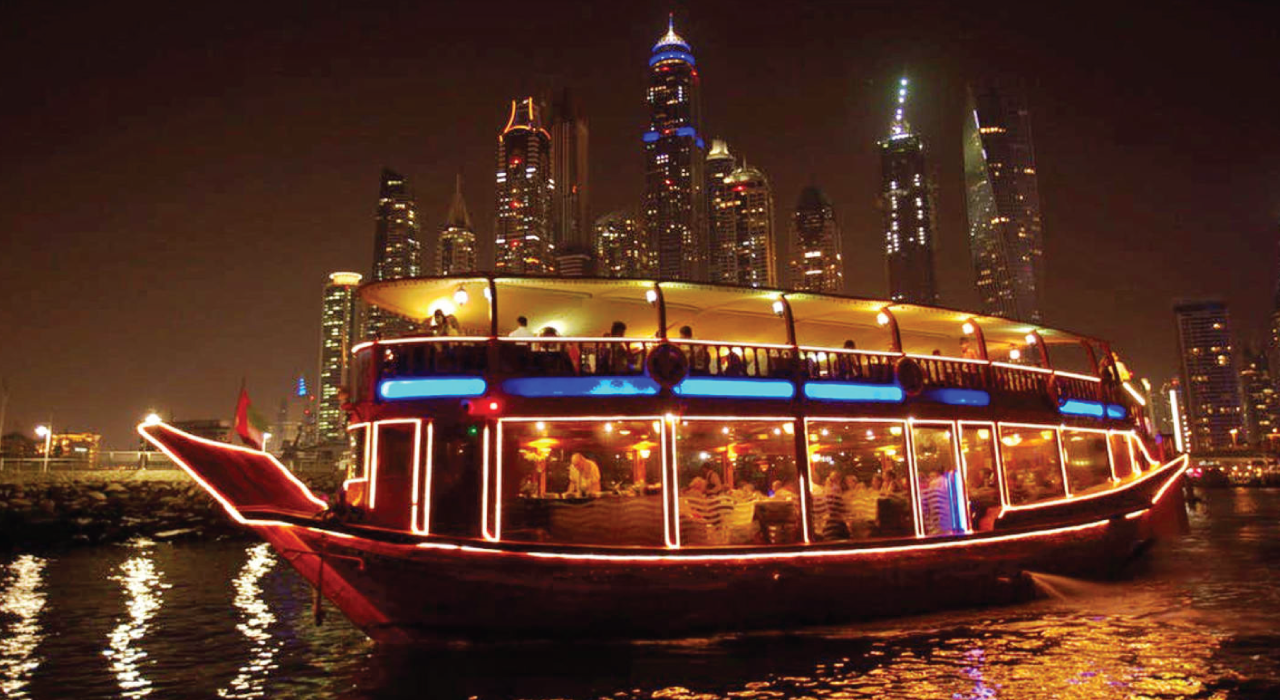 Another place to enjoy a Dhow Cruise in Dubai Marina which owns all the rights to spellbound you with its magnetizing views. This place is a western sister to Dubai Creek with a tint of culture and traditions. It has a vibrant ambiance and the glory of Dubai Marina adds to the charm of your ride. Dhow Cruise in Dubai Marina is the more plush and modernized substitute to Dubai Creek. A Dhow ride through the splendid waters of Dubai Marina lets you inhale the essence of frontiers of Dubai skyline like the Palm Jumeirah, the Atlantis, Burj Al Arab, etc.
No doubt that Dubai Marina Dhow Cruise can instill a king-like feel in you with its royal services and leisurely disciplines. The place is forever ready to extend a lavish cruising experience to you.
Everyone wants something extraordinarily amazing and filling in a junket. A Dhow Cruise ride is one of such elements in Dubai. We are sure that no one would like to miss out on a swaying ride on a classic yet lustrous Dhow boat. And now when it is complemented with so many exotic features, then loosing at it is not a wise take.
A Dhow Cruise ride provides you a slow sail over beautiful waters in an ambiance full of splendor. You will find an ultimate blend of leisure and life in this ride as you can relax and soak up the intensity of deep waters and simultaneously you can enjoy lively dance performances by professional artists. A Dhow Cruise ride mostly begins in the evening so that you can relish the drowning sun in the distant horizons from the swaying boat. This very feature of a Dhow Cruise ride serves for its huge craze among travelers. This will be a two to three hours ride full of amusements. You will be welcomed on the board by a compassionate and friendly staff which is always on their toes to serve you with the utmost level of hospitality. They will be attentive towards your every need throughout the ride.
The cruise has two parts, a lower deck, and an upper deck. The lower deck is fully AC compartment with glass windows to enjoy the views outside. To keep you engaged, live performances by professional dancers in Arabian folk dances like Tanoura, Kandura, etc. are arranged. If you are an enthusiastic audience then you can try your feet with the performers as they happily invite you to the stage. Ladies can also enjoy Henna art on board as they have professional artists there.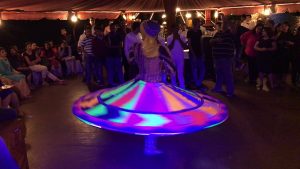 The upper deck is a partially open arena where you can relax and enjoy distant views of the Dubai skyline and feel the cool breeze over the clear waters. For peace seekers, this zone of the cruise is the perfect place to spend these leisurely hours.
Since it is a dinner ride, it is an obvious expectation that you are going to relish some of the most flavorful platters over the board on cruise. You will be served with an extensive range of cuisines from traditional Emirati dishes to globally acclaimed dishes. From time to time, you will be provided with refreshments and drinks to keep your tongue and senses immersed in the exotic ambiance. Some of the cruises also serve alcohol but you cannot expect it in every cruise as it is Dubai after all.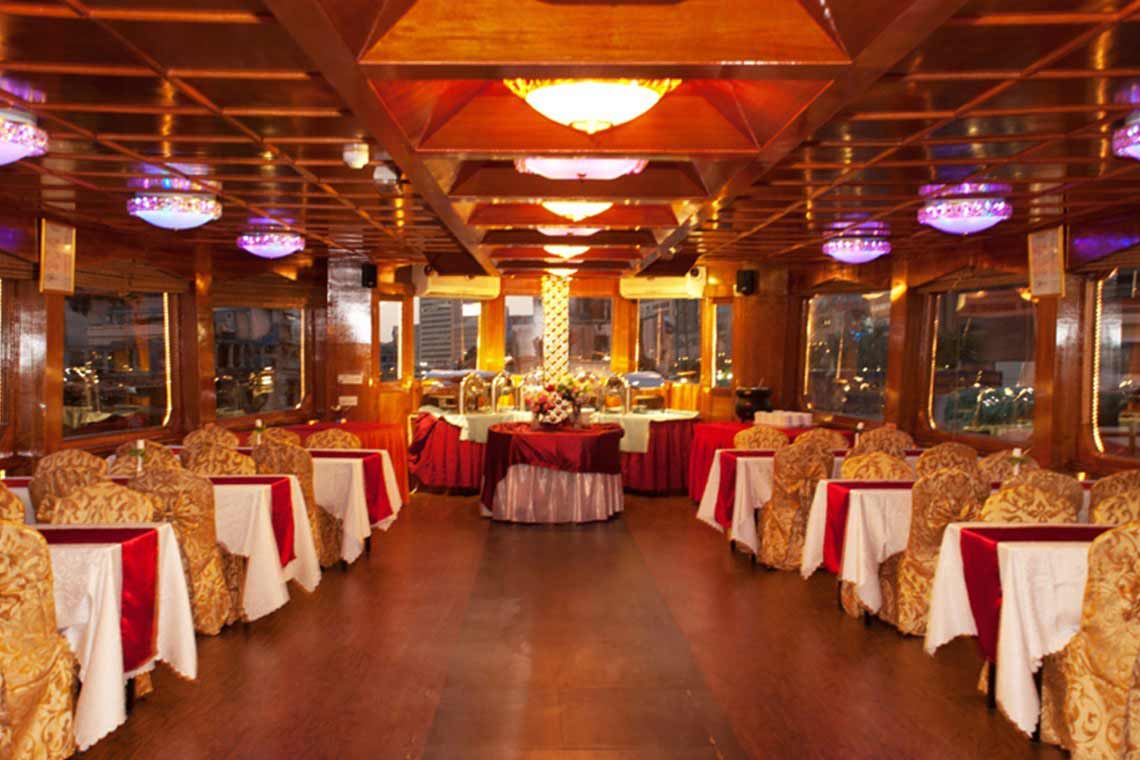 During special events and celebrations, Dhow Cruises arrange special themes for visitors. New cuisines are included in the menu and elements like fireworks are added to ramp up the festivity. Customized arrangements are made on Valentine's Day for your beloved. Also, birthdays, anniversaries, or any special family get together are also entertained by Dhow Cruises.
Though almost every Dhow Cruise is embedded with ninety percent of similar features, however, that ten percent is important. Always make sure that the cruise is a dinner cruise as it is the most important feature. Some cruises offer added facilities like spa, massage, etc. So, if you want then you can opt for it. Cruises of different price ranges are available based on their facilities. You can take help from your tour operator for a cruise with all your preferences and budget for the best option.
Frequently Asked Questions about Dubai Dhow Cruise
What is Dhow Cruise Dinner?
Dubai Dhow Cruises try to include attractive features to their rides to tempt tourists and make their ride more entertaining. Dhow Cruise is the most liked among those features. The passengers of Dhow Cruise are served with an extensive range of cuisines and drinks over the board to make their voyage more immersive and happening. In fact, Dhow Cruise dinners are considered one of the best options for dining in Dubai.
Which is the best Dhow Cruise in Dubai?
Best Dhow Cruise varies with person to person and according to your priorities. If you seek traditional Dhow Cruise and want to see a cultural and historic site of the city then Dubai Creek Dhow Cruise is the best for you but if you go for a lavish and modern version then it is Dubai Marina Dhow Cruise. Also, there are different options based on your budget and the facilities you choose.
What should I wear on Dhow Cruise Dubai?
Since it is Dubai, so you are supposed to wear a sophisticated dress that covers your legs up to knees at least and have sleeves, especially for ladies. Also, you are supposed to enter the cruise barefooted. There is no specific dress code that you must follow. Just wear whatever you find comfortable on a boat. Track pants and T-shirts can be a good option for both men and women. Else, it is your own wish.
What is the difference between Dhow Cruise Creek and Marina Dhow Cruise?
The major difference between Dubai Marina and Dubai Creek Dhow Cruise is their cost. Dubai Marina is much expensive in comparison to Dubai Creek. While Dubai Marina Dhow cruise comes with more posh facilities, the Dubai Creek Dhow cruise is a classic alternative. Dubai Marina covers the modern Dubai exhibiting sky-high buildings and glittery ambiance while Dubai Creek covers older Dubai comprising of heritage buildings and traditional souks. Both versions have their own charm and craze among visitors.
Which Dhow Cruise is a better marina or creek?
Though Marina Dhow Cruise is more prominent among visitors, both the options are good to consider. It depends on your priorities as to which one is better for you. Dubai Marina is much expensive as compared to Dubai Creek but is equally advanced in facilities. Dubai Marina spans modern Dubai while Dubai Creek covers old Dubai. Both are the best at their place and it's your own taste which one you find better.
How much does a Dhow Cruise cost?
Cost of a Dhow Cruise depends on various factors like the cruise you choose, the season you visit Dubai, activities you take complementary, etc. Many a time, you can even get offers or discounts, so it's better to check with your tour operator beforehand.
What are the activities that take place in Dhow Cruise Dubai?
A Dhow cruise management tries their level best in keeping their audience entertained and busy. Once you go on board, you are welcomed by the staff with drinks followed by a sumptuous dinner buffet. The buffet is arranged with many international cuisines. You will be entertained by live Tanoura Dance performance by professional dancers. Many cruises come with complementary activities like Henna, tattoo, etc. Sightseeing Dubai from water is also one of the most loved parts of this cruise ride.
How to book a Dhow Cruise Dubai?
Booking a Dhow Cruise in Dubai is a very simple procedure. You can book by either of the methods from online booking, booking over the phone, or physically coming to our office. For online booking, visit the Travelex Travels & Tours official website. Select your cruise, and submit your inquiry with your preferred date and we will email or call you with all the essential details or you can directly email us on [email protected]
What are the top entertainment options on Dhow Cruise?
The complete Dhow Cruise ride is entertainment itself and almost every element of it is fun. To specify, having the tastiest of foods you ever had, Tanoura dance and watching the mighty Dubai skyline from a distance in the cool breeze from water is the most loved by its visitors